Apple shipped 3.6 million units of Apple Watch in the second quarter of this year, falling short of market leader Fitbit's 4.4 million units by just 0.8 million, according to an International Data Corporation study.
Apple occupies the second position among the top five wearable vendors across the world. Jitesh Ubrani, senior research analyst for IDC Mobile Device Trackers, says two out of three wearables shipped in the quarter were Apple watches.
Apple, whose smartwatch went on sale in April 2015, clubbed the wearable device into a new category called Other Products that includes iPod, Apple TV, Beats headphones and speakers and other accessories.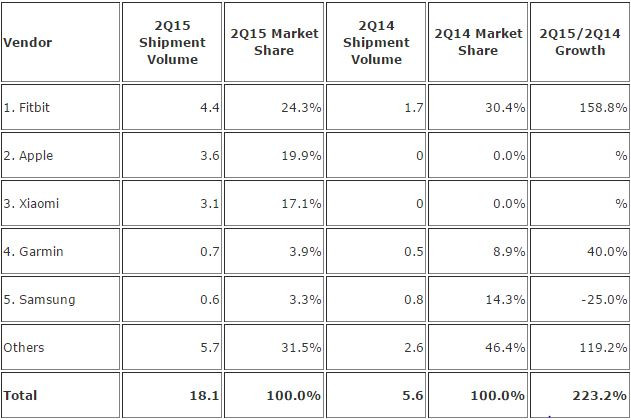 "Apple has clearly garnered an impressive lead in this space and its dominance is expected to continue. And, although Fitbit outshipped Apple, it's worth noting that Fitbit only sells basic wearables – a category that is expected to lose share over the next few years, leaving Apple poised to become the next market leader for all wearables," says Ubrani.
Xiaomi, Garmin and Samsung managed to make it to the top five list of vendors, while retaining the third, fourth and fifth spots respectively. The total wearable shipment in this quarter was 18.1 million units, which is 223.2% more than the 5.6 million units sold during the same quarter in 2014.