The Apple Watch is a flop. The Apple Watch is a huge success.
These are the contrasting views that have been heard about the Apple Watch since it went on sale on 24 April 2015.
As expected, Apple did not reveal Apple Watch sales figures or revenue during its latest financial results. Instead, the iPhone maker bundled the revenue from its first wearable into its 'other products' category, which includes iPods, Apple TV and Beats products.
So is it possible to figure out just how well Apple's Watch is doing? While there is widespread consensus that Apple has sold more smartwatches in the last three months than all other major smartwatch manufacturers combined (Samsung, Motorola and Asus), we still don't have a concrete figure for sales.
There are, however, a number of significant pieces of information that we can bring together to give us a better idea of this figure. But first, let's have a look at what we know:
The Apple Watch went on sale in nine countries on 24 April, with limited supplies selling out in less than six hours when pre-ordering opened on 10 April. On 26 June, the Watch went on sale in seven more countries while also becoming available in stores in the original nine countries.
That means for the Q3 2015 results just announced, Apple Watch was on sale in nine countries for a total of 63 days and 16 countries for a total of five days. And for only five days could customers buy one of the watches in an Apple Store without first ordering it online.
Apple CEO Tim Cook confirmed that by the end of June, the Watch was on sale in 680 retail locations around the world – which is just 1% of the 220,000 locations that the iPhone is on sale.
It should also be noted that only people with an iPhone 6, iPhone 6 Plus, iPhone 5, iPhone 5s and iPhone 5c were, compatability-wise, in the market to buy one.
OK, so now we know the Apple Watch purchase surface, for want of a better term, what about the indicators of how sales have gone?
Slice Intelligence report
The first real indication came in the form of a report from research company Slice Intelligence at the beginning of July, which suggested Apple Watch sales had dropped by 90% from week one to week two, and continues to fall off in the weeks and months following.
The figures suggest that in the US, Apple had sold 2.8m Watches since launch, dropping from a high of 200,000 units a day in the opening week to less than 10,000 a day by the end of June.
Slice even had details of which models people were buying, with the data suggesting that two thirds were buying the lower-price Sport model, and just 2,000 people had purchased the high-end Watch Edition, which costs up to £13,500 (€19,369).
Slice gets its information from a sample of 2.5 million people who have given their consent for the company to scan their inboxes for email sales receipts. The problem is that this data is based on US customers only, and there is no way of assessing how representative the sample set is of the general population.
While there is interesting data here, it is limited in how well it represents the wider market.
In an interview with the Wall Street Journal reported on WSJ, Cook called Slice's data "absolutely false". He denied there was a slowdown in sales, saying that retail figures for June had eclipsed both April and May.
Where there is an Apple product, there are always dozens of analysts willing to give their "informed opinion".
Estimates from 27 analysts polled by Fortune on 19 July suggested that Apple had sold 4.07m Watches since first going on sale. This was down slightly from the 4.54m estimated by 10 analysts 12 days earlier, also for Fortune.
Again, estimates here vary wildly as analysts are modelling a new product for which they don't have a lot of hard evidence.
Following the announcement of the Q3 results on 21 July, well-known Apple analyst Gene Munster initially predicted the company had sold just 1.2m units, but he revised his estimate upwards to 2.5m following Tim Cook's comments.
Munster had predicted 3m units ahead of the results being published, which gives some indication of the difficulty that analysts are having at modelling Watch sales in these early days.
Speaking of Tim Cook, here's is what he had to say on the earnings call when questioned about Apple Watch sales:
Sales of the Watch did exceed our expectations and they did so despite supply still trailing demand at the end of the quarter. And to give you a little additional insight, through the end of the quarter, in fact, the Apple Watch sell-through was higher than the comparable launch periods of the original iPhone or the original iPad. And as you probably know, as I had reviewed earlier, the online sales were so great at the beginning we were not able to seed inventory to our stores until mid-June. And so those points of sale, pretty much, the overwhelming majority of the low numbers of sales were not there until the last two weeks of the quarter.
Cook added that the reason Apple wasn't revealing Watch sales figures or revenue was due to not wanting to give insight to competitors on a product that it "worked really hard on".
Apple's CEO also attempted to scotch reports based on the Slice Intelligence report:
On the Watch, our June sales were higher than April or May. I realise that's very different than some of what's being written, but June sales were the highest. The Watch had a more of a back-ended kind of skewing.
Better than the iPhone and iPad?
So what about Cook's comments about the iPhone and iPad? Surely that will give us an indication about the Apple Watch sales.
Apple sold 1.1m iPhones and 3.3m iPads in their respective first quarters – but note that Cook speaks about "comparable launch periods", so let's give those figures a bit more context.
The iPhone first went on sale on 29 June 2007 in the US, and this was the only market it was on sale in during its full opening quarter. It was on sale for just two days of Apple's third fiscal quarter – so if we discount this and look instead at figures for Q4 2007, then we see Apple sold 1.11m units just in the US alone – and only on the AT&T network.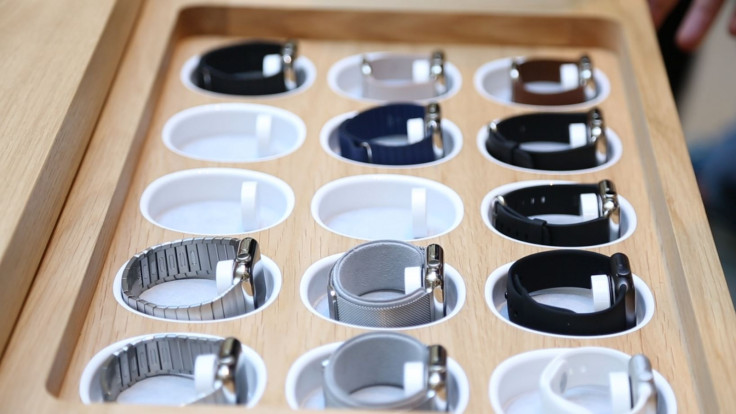 The iPad went on sale in the US only on 3 April 2010. It then went on sale in nine more countries on 28 May, meaning it was on sale in the US for the entire quarter, and nine other countries for a total of 34 days. The iPad was on sale in all Apple stores in those countries as well as online, meaning there was more availability.
So what to take from this? Well, it would seem to suggest that Cook is saying Apple sold more than 3.27m Watches in the last quarter, though by qualifying his comments with the terms "comparable launch periods", it is hard to tell.
So where is Apple Watch revenue reported? Apple has bundled it with the 'other products' revenue, which includes iPods, Apple TV and the Beats range of headphones and speakers.
Other products accounted for $2.64bn of Apple's record breaking $49.6bn revenue.
Apple Watch review redux
"The Apple Watch isn't a home run. Its software is initially confusing; the apps are often slow; the price for anything but the Sport model is high, and it doesn't do any one thing significantly better than its cheaper rivals. The hardware is excellent and, after some trial and error, using it is as ergonomic as you can expect a complex operating system on such a tiny device to be."
In the previous quarter, the revenue in this division was $1.69bn and during the same period in 2014 it was $1.77bn
So, in the last three months during which the Watch went on sale, Apple's other products review jumped $952m. So there we have it – that's the revenue from the Apple Watch, and giving it a average selling price (ASP) of $550, based on analyst estimates, Apple sold 1.73 million Watches. Simple.
Not so fast.
Apple's chief financial officer Luca Maestri said on the earnings call that "well over" 100% of the rise in other products' revenue was down to the Apple Watch.
The problem is that Apple's revenue from the iPod has been shrinking for a long time, and it is hard to gauge just how much it would have fallen in the last three months had the Apple Watch revenue not been there to hide it.
To try and give something of an informed guess, we could look at how much it fell year-on-year between 2013 and 2014. The problem is that in this period, Apple still reported iPod sales separately and there was no revenue from Beats, which it had still not acquired.
However, let's say that the decline in iPod sales was the only significant decline. Then we can estimate that on past performance, revenue would have fallen by 40%, as it did the pervious year. So that would be an additional $176m – 40% of $442 revenue in Q4 2014 – which would be an additional 320,000 Watches – again based on an ASP of $550.
This gives us a total of slightly less than 2.1m Watches sold.
However if we use the same revenue figures with a slightly lower ASP of $450, skewed to represent a higher proportion of Watch Sport models being bought – as was claimed in Slice Intelligence's report – then we get a figure of 2.5m Apple Watches – which means we agree with analyst Gene Munster, and we're not sure if that's a good thing.
So, how many Apple Watches have been sold?
In the end, as you can see, it is very hard to accurately guess the number. But from all the clues we have looked at, it seems that the figure likely lies somewhere between 2.5m and 3.5m units.
When you consider the limited availability, in terms of countries and supply chain restrictions, these figures can be seen as nothing but a massive success for Apple. When you consider that the entire Android Wear range is estimated by Canalys to have sold just 720,000 units in 2014, it is clear that once again Apple is defining a new product category – just as it did with the smartphone and the tablet.