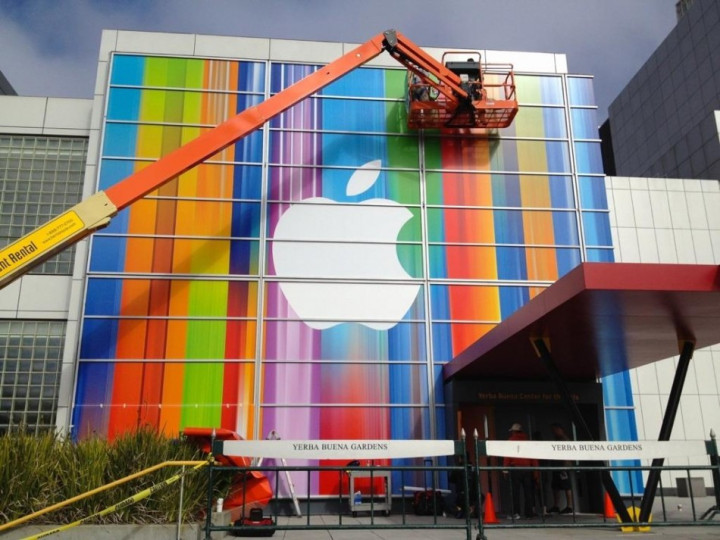 Apple is expected to launch the new version of its best-selling iPhone at the Yerba Buena Center for the Arts in San Francisco on 12 September at 10am PST (6pm British Summer Time).
As the secretive technology giant spruces up the exterior of the venue for the event, internet scrutiny of the vibrantly coloured graphic displays has been intense.
The front glass walls of the venue display the same design as the press invitation for the event. Apple has a history of dropping hints in its invitations and decor. The invitation features a shaded number 5 below the event date on the invitation, but what do all the colours mean?
In addition to the iPhone 5, Apple is expected to launch new iPod touches, a new iPod nano and a tweaked iPod shuffle at the event, and its mobile iOS operating system is likely to be updated to version 6. Both MacRumors and macstories have published their own exterior photo-shoot contributions on the work in progress at Yerba Buena.
On the other hand, 9To5Mac has contributed some imposing interior photos depicting the large construction machines at work inside the venue.
Although Apple has thrown its usual veil of secrecy over the event, the iPhone 5 is widely expected to feature a larger 4-inch display (up from 3.5 inches), an ultra-slim form factor, a new shape dock connector, 4G LTE connectivity and – possibly – a Near Field Communication chip to enable contactless payment.
According to a Wall Street Journal report, the 4G LTE support on the iPhone 5 will cover worldwide networks including the US, Europe and Asia. However, the hitch is that the phone may not work on all carriers' LTE networks in every country.
Owing to infrastructure constraints - designing chips with multiple radio antennas needed to support all of the 36 LTE bands around the world - Apple is likely to limit 4G/LTE availability to certain cellular carriers in each country.
In the United Kingdom, Everything Everywhere (the carrier formed by the merger of Orange and T-Mobile in the UK) was recently awarded the country's first 4G licence. At a special event to be held on 11 September, one day before Apple's launch, the company is expected to announce a new brand specifically for its 4G network.
Meanwhile, the most challenging task for Apple will be its marketing strategy for the iPhone 5, as the use of the term 4G in markets where the network is not fully available has already got the company into hot water, forcing it to relabel its top-end iPad models as iPad Wi-Fi + Cellular, instead of iPad Wi-Fi + 4G.