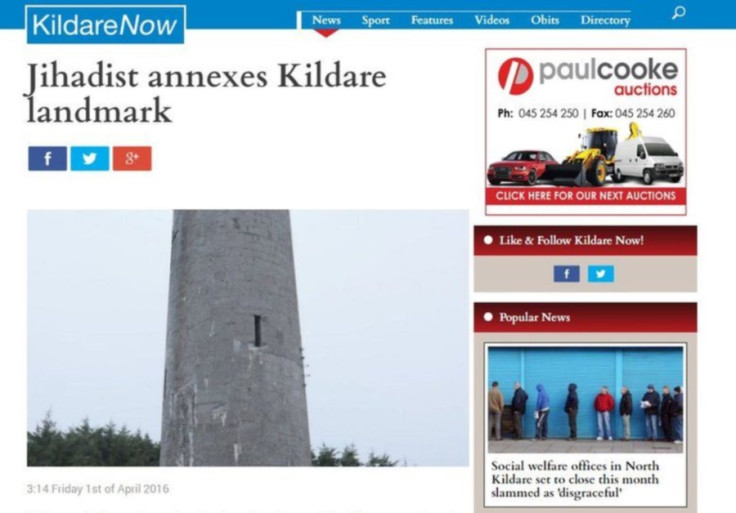 An Irish news website has been forced to apologise after they published an "offensive" April Fools' prank claiming a man called 'Paddy Jihadi' had taken over a Kildare landmark. The website, KildareNow, said that the Alymer's Folly on the Hill of Allen in County Kildare had been overtaken by an Islamic jihadist fighter.
They also published a digitally altered photo that showed the black flag of Islam, used by terror groups such as Islamic State (Isis) and al-Qaeda, flying over the landmark, which was built in 1863. The article said Irish security forces were enforcing a "ring of steel" around the Allen area, which is roughly 15 miles west of Dublin, after a man said he was going to rename it the Hill of Allah.
The website later published a frank apology saying that the article was "completely unauthorised and was not posted by a member of the editorial team". Bosses at the website said that they will also launch an investigation whilst apologising to anyone "rightly offended" by the "extremely insensitive" words.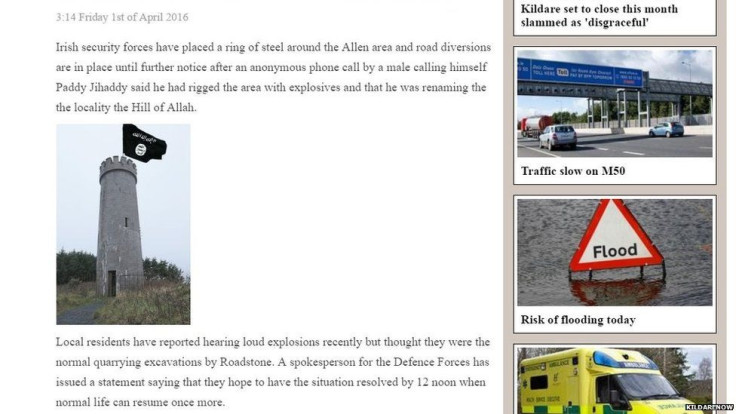 The statement reads: "An article and photograph was posted on KildareNow this morning purporting to be an April Fools Day-type story. KildareNow would like to point out that the story was completely unauthorised and was not posted by a member of the editorial team.
"The article and photograph have both been removed from the KildareNow website and our Facebook account. KildareNow would like to apologise unreservedly to everybody who was rightly offended by the article which was extremely insensitive especially in light of recent tragic events in Brussels and elsewhere."
Last year, Daesh (Isis) were the butt of another April Fools' joke when the Hyperallergic arts website posted a story saying the extremists were exhibiting a "floating pavilion of art destruction" in Venice.
Other April Fools' jokes that shocked the internet today included Ukip leader Nigel Farage renouncing his belief that the UK needs to leave the EU, while the Bournemouth Echo wrote that the town may see an Emirate-inspired floating palm island built off the Dorset coast.