Arab Autumn: Amnesty International Condemns Egyptian Military Violence [VIDEO]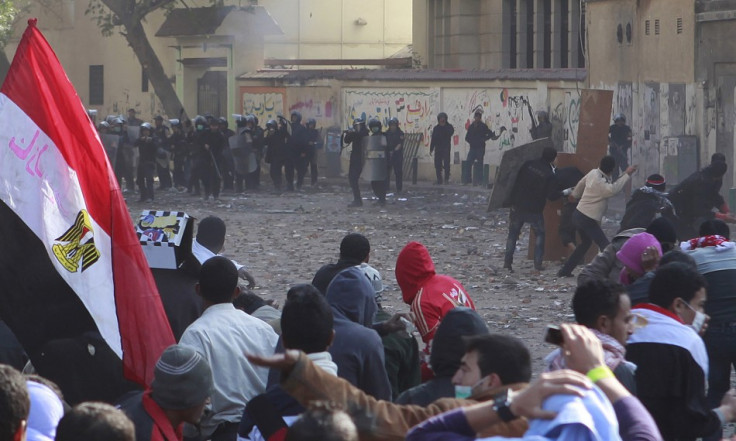 Human rights watchdog Amnesty International condemned Egypt's ruling Supreme Council of the Armed Forces for perpetrating worse human rights abuses than the regime of ousted President Hosni Mubarak.
The BBC reports that at least 33 people have been killed to date, and hundreds more injured, as violent battles between protesters and security forces enter their fourth day.
The news that Egypt's military-appointed Cabinet had offered to resign Monday evening prompted the influx of thousands of protesters into Cairo's Tahrir Square.
At least 20,000 people flocked to Tahrir Square Monday night following the announcement. It is not clear whether Egypt's generals will accept Prime Minister Essam Sharaf's offer for the Cabinet to resign.
Third Day of Violent Clashes in Egypt (PHOTOS)
Despite intensifying street battles, reports from Cairo suggest that the number of protesters is far less than during the Egyptian revolution last winter.
Issandr El Amrani, a prominent Egyptian blogger who runs the Arabist blog, described the scene Monday night as "a bizarre mixture of carnival atmosphere and intensity."
"It's not like Jan. 28 when it was a full-blown war across the city," he wrote, "The situation is static."
He also posted a video showing what looks like thousands of people chanting "The people want the fall of the field marshal," referring to military ruler Field Marshal Mohammed Hussein Tantawi, who heads the SCAF.
A coalition of political groups has accused the military council of leading a "counterrevolution" and called for a mass demonstration of "a million men" on Tuesday.
"Tomorrow there will be a million man [sic] at 4pm Cairo local time," wrote one Egyptian blogger, who also reported the death toll as reaching 33 "martyrs."
The protesters are calling for an end to military rule and a transition to a civilian government. Egyptians have grown increasingly disillusioned with the army in the months following their takeover of power from Mubarak.
Protesters say the military have effectively hijacked February's revolution for their own political gain. "SCAF must leave because the people have seen through them," The Guardian reports one demonstrator as saying. "It has taken a long time, but the mask has slipped."
© Copyright IBTimes 2023. All rights reserved.