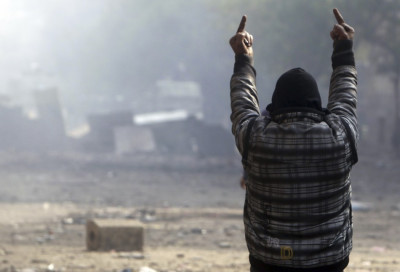 Crowds in Cairo's Tahrir Square continued Wednesday to fight a pitched battle against riot police and the Egyptian army, as pro-democracy protesters rejected military rulers' timetable for elections.
Thousands of Egyptians came out in force to call for the resignation of Field Marshal Mohamed Hussein Tantawi, head of the ruling Supreme Council of the Armed Forces.
The crowd might not quite have been the "million man" protest demonstrators were calling for, but it nonetheless represented the biggest rally in Cairo since February's revolution that toppled President Hosni Mubarak.
Tantawi spoke on national television Tuesday, promising to push ahead with parliamentary elections scheduled for next Monday. He said that the SCAF would hand over power to a civilian government by June 2012 instead of the previous target of late 2012 or early 2013.
"The military does not aspire to govern, but places the country's interest above all," Tantawi said.
Those in Tahrir Square vehemently rejected the field marshal's concessions, calling for his immediate resignation.
"We are not leaving, he leaves," protesters chanted. There have been reports of hundreds of injuries
Egyptians have grown increasingly critical of the SCAF since the military took power on Mubarak's resignation. They say the army generals have "hijacked" the revolution for their own political gains, while Amnesty International has accused the SCAF of perpetrating worse crimes against humanity than the Mubarak regime.
"Tantawi is Mubarak, copy pasted," a protester told AFP news agency. "He's Mubarak in military uniform."
Despite the media attention received by the protests in Tahrir Square, this latest stage of the revolution comparatively small and isolated. Notably, the Muslim Brotherhood, perhaps the strongest party in Egypt at the moment, has not been involved in the recent demonstrations.