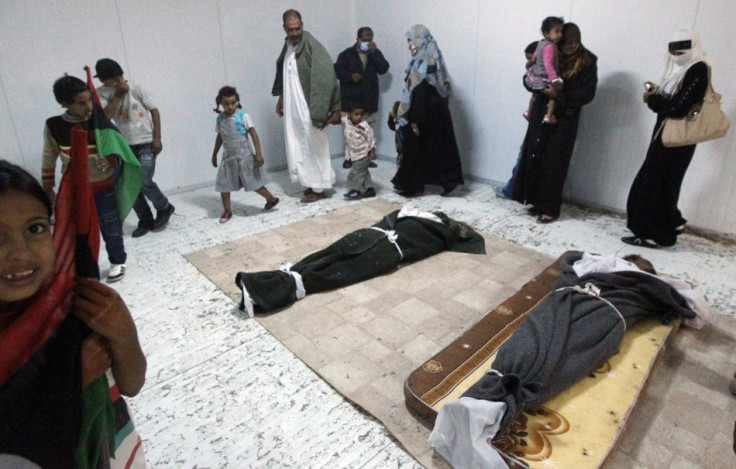 A Dubai-Based TV channel has broadcast amateur footage claiming to show the bodies of Colonel Gaddafi, Mutassim Gaddafi and National Security Advisor Abu Bakr Yunis, who died last week, moments before their 'secret burial' in the Sahara desert.
Al Alaan TV says the footage shows a short ceremonies, allegedly taking place near Misrata,.
Three open coffins which appear to contain the bodies of the former leader, his son and his aide can be seen in the video, while a cleric, said to be Gaddafi's personal cleric Kahled Tantoush recites the ritual Islamic funeral of Salat al-Janazah in an intimate ceremony.
The coffins were then reportedly taken from the compound in Misrata where they had been on public show in a meat refrigerator since last week brought to the desert where two NTC loyalists were left in charge of the burials.
NTC spokesman Abdel Majid Mlegta said yesterday that the last rites were attended by two of Gaddafi's cousins, Mansour Dhao Ibrahim, once the commander of the People's Guard, and Ahmed Ibrahim, who had both been captured after a NATO airstrike hit a convoy of vehicle trying to escape Sirte.