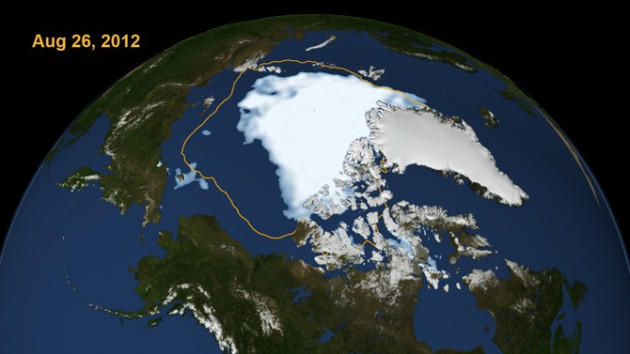 The ice cap which dominates the Arctic Ocean has retreated to its lowest level on record, according to scientists.
A team from Nasa and the University of Colorado Boulder's National Snow and Ice Data Center (NSIDC) says that the amount of ice floating in the Arctic has fallen to 4.10 million square kilometres, or 1.58 million square miles.
The current coverage of ice falls beneath the previous record low of 4.17 million square kilometres, set in 2007, is the lowest level recorded since satellite monitoring began in 1979.
The scientists attribute the dramatic fall in coverage to an intense recent storm over the Arctic region, and warn that, with summer still not over, the ice could recede even further before the conclusion of 'melt season' - the period in which the ice recedes - in late September.
"It's a little surprising to see the 2012 Arctic sea ice extent in August dip below the record low of 2007, [which was set] in September. It's likely we are going to surpass the record decline by a fair amount this year by the time all is said and done," said Walt Meier, scientist at the NSIDC.
The Arctic ice cap grows naturally during the region's cold winters, and shrinks when temperatures climb in the spring and summer. But in each of the past three decades, satellites have observed a 13 percent decline in the minimum summertime extent of the sea ice.