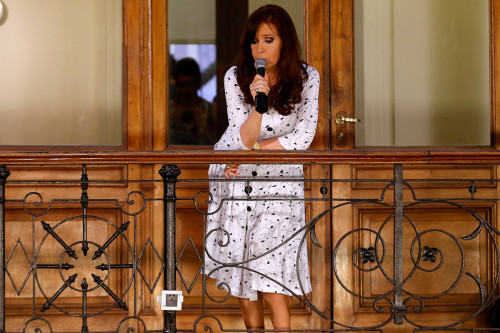 The peso has suffered its worst decline since Argentina's economic collapse in 2002, prompting President Cristina Fernandez de Kirchner to lift some foreign exchange controls to ease the crisis.
Diminishing reserves kept the central bank from trying to prop up the currency by interfering in the foreign exchange market.
In the two days to Thursday, the peso's value fell by 16% against the US dollar, slipping further to 18% today (Friday).
Inflation is among the worst in Latin America along with Venezuela, said analysts, who warned that the falling currency could make things worse.
"Reality will clearly force some changes: you have to live within your means, if your currency is going down, it means you're going to be paying more for your imports," said Joseph Stiglitz, a Columbia University professor and Nobel Laureate, told Bloomberg Television.
"They will have to change their policies. The question is when and how," he added.
Argentina's reduction of currency controls in an attempt to reverse the peso's slide, boost its value relative to the greenback and contain the dire financial situation might be successful for a time.
According to former central bank president Mario Blejer, these policies may allow the government to stabilise currency imbalances and stimulate investment.
"All measures that seek to reduce the chaos and intervention would tend towards stabilising the situation," he said in Davos. "A devaluation was needed because the exchange rate policy has been erratic in the past years."
However, Argentina has a notable record of experiencing violent financial crises and its recent economic performance has not been encouraging.
The country's central bank reserves have plunged to $29bn. This is the lowest level in more than seven years, despite increasingly tight currency controls meant to restrain capital flight.
Kirchner has not been that successful at curbing inflation or returning Argentina to international markets. Critics of her left-leaning administration fault the country's economic problems on its higher spending on social programmes, expansion of business regulation and nationalisation of some firms.
Argentina has been kept out of global credit markets since defaulting on its debt during its 2001-02 financial crisis.
.