Argentina: Thousands protest against job cuts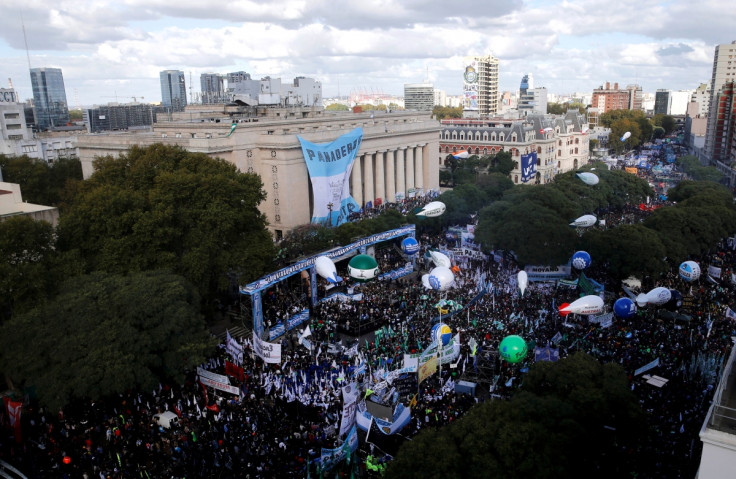 Tens of thousands of people have taken to the streets in Argentina to protest against job cuts imposed under President Mauricio Macri's economic reforms. Two major labour unions, the CGT and CTA, had called for a demonstration against the government's spending and public sector job cuts.
The protestors, chanting slogans, and waving blue and white Argentine flags, brought the central areas of Buenos Aires to a standstill by blocking the road.
The unions have said that 100,000 people have lost their jobs since Macri took over as president after 12 years of leftist rule, though he had promised to cut over-spending and strengthen the economy. They have also blamed the government for firing workers indiscriminately. The critics say the job cuts and the recent abolition of subsidies have raised utility prices, hurting the workers' wages and spending power.
"This is a historic gathering. We understand that the interests of the workers come before the interests of the union leader, Marci is against the workers," Hugo Moyano, a union leader said. Another union leader, Pablo Micheli, said that "there is critical situation in Argentina and we're not seeing a solution ahead".
The government said it has laid off only 11,000 public workers in the first quarter of 2016. Justifying the layoffs, it said many employees hired during previous administrations never showed up for work, reported the Associated Press.
Argentina's Construction Workers Union has said about 40,000 workers in the construction sector were laid off in a span of three months - from January to March 2016.
The workers are planning to stage another demonstration on International Workers' Day (May Day).
While the demonstrations were taking place in the capital, Macri was far away in the northern region to launch a water production programme which the government says will generate 200,000 jobs.
Reflecting the dire state of the country's economy, analysts have forecast that the inflation rate in Argentina could go up to 36% this year.
Copyright 2009 The Associated Press. All rights reserved.
This material may not be published, broadcast, rewritten or redistributed.