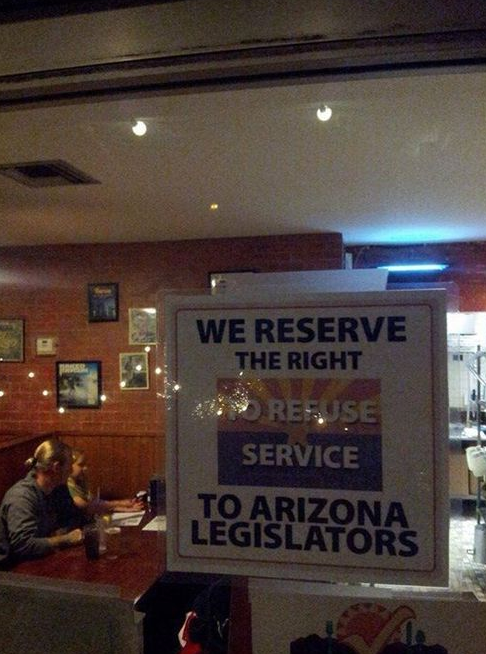 An Arizona pizzeria has decided to exercise its right to deny service to lawmakers in the name of equality, Time US has reported.
The decision comes as Arizona governor Jan Brewer is deciding whether or not to sign a bill allowing businesses to refuse service to gay couples in the name of religious freedom.
Rocco's Little Chicago Pizzeria in Tucson posted a sign in its window that reads, "We reserve the right to refuse service to Arizona legislators." The restaurant then posted a photo of the sign on its Facebook page, where it has racked up more than 20,000 likes.
"I was appalled by the Senate passing the law," the restaurant's owner, Rocco DiGrazia, told the Arizona Daily Star. "The sentiment is that any expansion of discrimination is going to hurt everybody and open the doors for more."
DiGrazia said several of his regular customers were gay, along with some of his waiting staff.
"Why discriminate against anybody?" he said, "I'm just trying to make some food."
The bill was passed by the Senate on a straight party-line vote, and all but three House Republicans voted for it, the Los AngelesTimes reported.
The bill's sponsors, Republican Sens. Steve Yarbrough and Rep. Eddie Farnsworth, say that the bill protects the religious liberty of Arizona citizens, while opponents say it enables discrimination.
Democrats and gay rights activists are pushing for Brewer to veto the bill, calling it discriminatory and unconstitutional.
"Once again Arizona's Legislature is on the wrong side of history," Alessandra Soler, executive director of the American Civil Liberties Union of Arizona told the Los AngelesTimes.
"Gays and lesbians own homes, run businesses and pay taxes just like everyone else, but under the guise of religious freedom they are now being vilified by Arizona lawmakers."
The bill, she said in an email, allows "individuals and businesses to use religion to discriminate, sending a message that Arizona is intolerant and unwelcoming".
Same-sex marriage is legal in 18 countries in the US, including California, New York, New Mexico and Washington.
Virginia recently rejected the ban on same-sex marriage, declaring it unconstitutional.
President Barack Obama originally believed that marriage was possible only between heterosexual couples.
"What I believe is that marriage is between a man and a woman," he said in 2004, as reported by CNN.
However, his views on same-sex unions changed and in 2012 he told the New York Times: "At a certain point, I've just concluded that for me personally it is important to go ahead and affirm that I think same-sex couples should be able to get married".