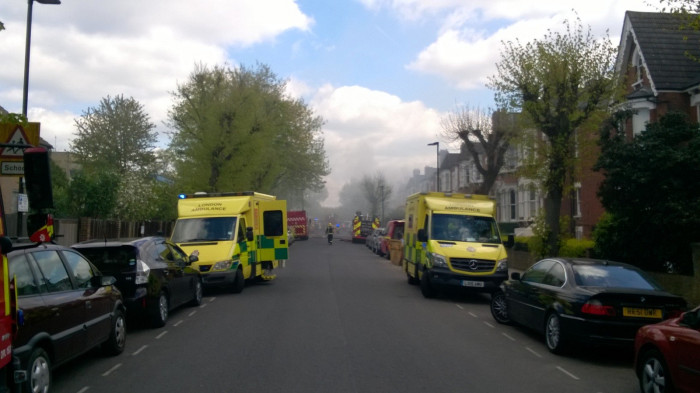 Three police officers - two of them female - were injured and a man is critically ill following an explosion in north London.
Police went to the scene in Stapleton Hall Road, Finsbury Park at around 11.50am Wednesday (19 April) after receiving reports of a disturbance and a man armed with an axe.
He is believed to have been involved in a housing dispute and bailiffs were present at the time.
Soon after police arrived, a large explosion ripped through the property, leaving the basement, ground floor and a shed in the back garden in flames.
The man, named as Wilton Sterling, 55, was critically injured and rushed to hospital where he is fighting for his life. His friend Paul Matthews, 56, told The Mirror: "He has got 80% burns. I hope he makes it. He's like a brother to me. He's lived in that house his whole life".
The three police officers went to hospital for treatment but their injuries are not thought to be serious. The cause of the blast is still being investigated but the explosion is not being treated as an act of terrorism. The house was evacuated and neighbouring properties undamaged. There were 10 fire engines and 72 firefighters at the scene.
London Fire Brigade station officer Sean Madeley said: "Initially we put our breathing apparatus crew with a jet supporter to fight the fire from the inside. They were able to do that quite successfully on the lower ground floor and on the ground floor.
"Unfortunately, the staircase area became severely damaged and so we had to withdraw crews because we were not able to get to the upper floors due to the fire damage. We then used jet support from the rear of the property to fight the fire and also our aerial ladder platform which is being used are present to deal with the fire which still remains up in the roof area."