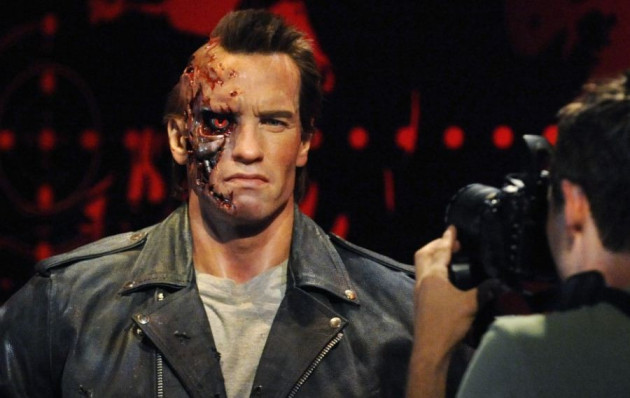 Hollywood superstar Arnold Schwarzenegger has re-recorded some of his famous lines as part of an 'ask me anything' session for the website Reddit which handles the promotion for his new flick Escape Plan.
"Whenever I go to an event, someone asks me to yell out one of my lines. Even when I walk into Starbucks, people scream at me to 'Get to the choppa'. So to celebrate Escape Plan hitting theaters today, since I've already done an AMA and a Fitness AMA and I pop in on /r/fitness when I can, I thought it would be fun to offer myself to yell out all of your favorite lines," Schwarzenegger stated.
"I'm on set, so I will check in and upload the videos as responses throughout the day. I can't wait to scream one of my wilder lines and scare the crew," he added.
He recorded his most famous lines from the Predator, Conan the Barbarian, Kindergarten Cop and The Terminator.
Meanwhile, the 65-year-old former Governor of California is to reprise his iconic role as the Terminator, in the fifth instalment of the hugely popular sci-fi and action series.
"I'm very happy that the studios want me to be in Terminator 5 and to star as the Terminator, which we start shooting in January," Schwarzenegger confirmed, at the 21st Century Financial Education Summit in Australia.
Schwarzenegger made his acting debut back in 1969, when has was chosen to play the Greek mythological hero Hercules. His first truly serious movie role, though, was in 1976, when he played Joe Santo in Stay Hungry. He was awarded a Golden Globe for New Male Star of the Year for this role.
But it wasn't until 1982's Conan the Barbarian that Schwarzenegger broke through on the world stage. Within five years, he established himself as the world's biggest all-action hero, starting a total of three hugely successful film franchises. From Conan in 1982, Schwarzenegger began the Terminator series in 1984 and then spawned the Predator (of Aliens and Predators fame) series in 1987.
The other great news for Schwarzenegger fans is that he has been confirmed for 2014's Legend of Conan.
"I'm also going to do King Conan - to play that role and also to do another Twins (the original released in 1988) movie. So I feel very proud of that. I feel very happy and I'm looking forward to doing those films," the Austrian-born former bodybuilder added.
Scroll down for the videos.
[Videos Courtesy: Youtube/Arnold Schwarzeneggar]