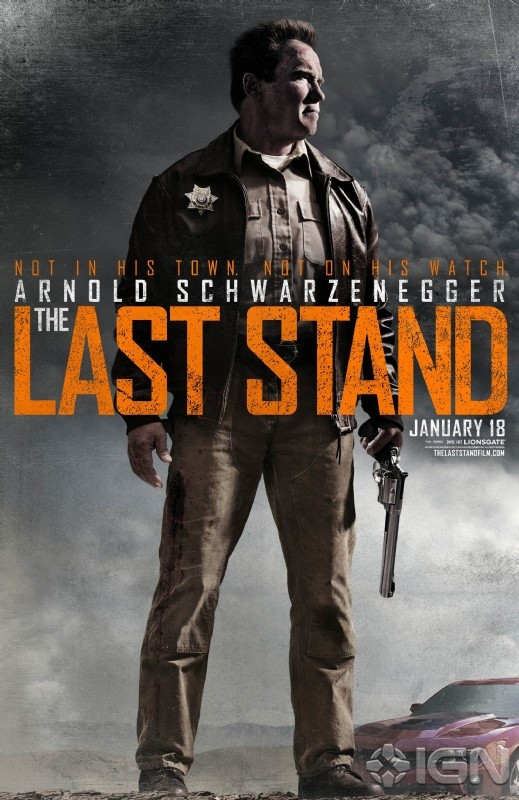 Arnold Schwarzenegger looks set to continue his comeback as an action star with the release of the first image for his latest film The Last Stand.
The poster tells you just about everything you need to know about the film, which focuses on Schwarzenegger's sheriff who has left his hectic city life behind him to police a quiet US border town.
As can be seen by the grim expression on Arnie's face and the size of the gun he's brandishing, this peace is shattered by a lethal drug baron, on the run from the FBI, led by Forest Whitaker. Schwarzenegger must pull together his ragtag police team, which includes Jackass star Johnny Knoxville, and kick the bad guys out of town.
Schwarzenegger clearly got straight back on the cinematic horse after stepping down as governor of California. He joins an all-action cast of Sylvester Stallone, Jason Statham and Chuck Norris in The Expendables 2 this month before re-teaming with Stallone again to break out of a futuristic prison in The Tomb.
The Last Stand sets out its stall with its tag-line "Not in this town. Not on his watch". This is going to be a no-nonsense action thriller, but any expectations that it will be throwaway straight-to-DVD fare will be quashed by the revelation that it is directed by South Korea's Kim Ji-woon. His last film, I Saw The Devil, a spectacularly violent and twisted serial killer masterpiece, suggests he will pull no punches when it's time for Arnie to draw his gun.
The Last Stand will be released in January 2013.