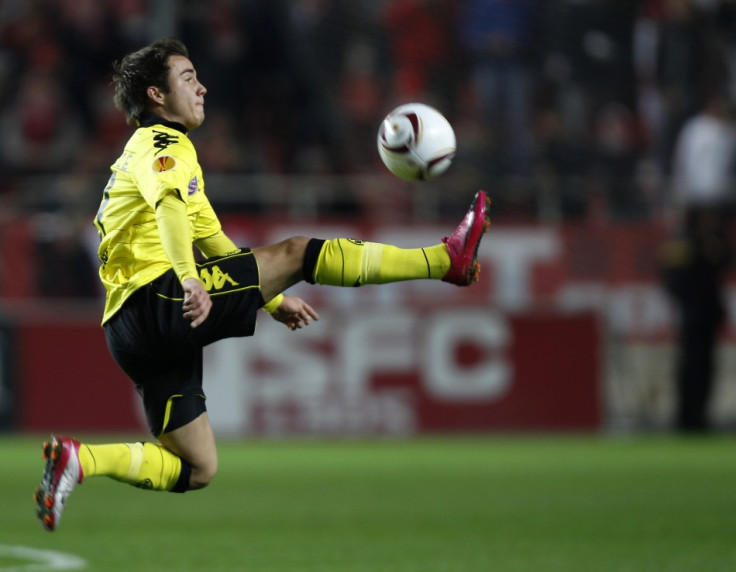 Mario Gotze is 'relaxed' over interest from Arsenal, according to Borussia Dortmund coach Jurgen Klopp, with the club insisting that their prized possession won't be sold until the timing and the club are right.
Gotze is the subject of a great deal of transfer interest, and with a worth of around £30 million, only the biggest clubs around Europe are chasing the 19 year old.
And while the Germany international, who has garnered 12 caps for his country, has been connected with multiple moves when the January transfer window opens, Klopp believes that any transfer dealings will take place next summer.
"Nothing can happen in January. It's not a problem. Arsenal is only about 10 per cent of what is written in Germany, so it's not a problem," Klopp said.
"Apparently, Bayern Munich are interested in him. He scored one against Bayern Munich and I will be happy if he wins against Arsenal.
"Nobody buys a player from Borussia Dortmund just like that. Not even Arsenal.
"Luckily, his focus is not an issue. He's very relaxed about that."
Gotze scored at the weekend to take Dortmund past German giants Bayern Munich, and Manchester United are said to be interested in the star as well as Arsenal.
He has now scored 10 goals for the German side in 48 appearances, with six of those coming this season. While Gotze is still young, he is showing the potential to be a future European talent.
United are looking for a midfielder to replace the retired Paul Scholes, and while the club were heavily connected with Wesley Sneijder over the summer transfer window, a deal couldn't be finalised. And Gotze is a much cheaper option than Sneijder, in terms of transfer fees and wages.
For Arsenal though, Gotze would completely break the club's transfer record, though Arsene Wenger and the Gunners' owners have said in the past that if a player was available that the club really wanted, they would be happy to spend up to £30 million on them.
And Gotze's age is also a sweetener for Wenger, as the teenager fits well into the Frenchman's youth policy at the Emirates.