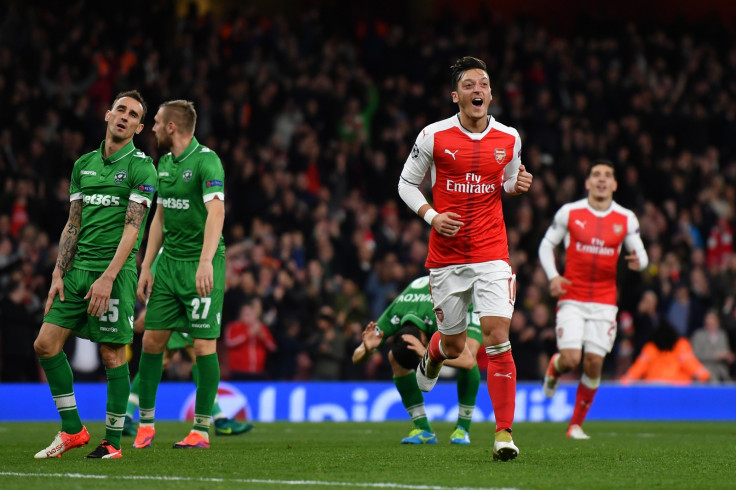 Arsenal star Mesut Ozil has refused to close the door on a future return to Real Madrid – although he insists he is currently happy at the Emirates Stadium.
The Germany international swapped the Santiago Bernabeu for North London in the summer of 2013, with Arsenal breaking their club transfer record by paying around £42.4m ($53.4m) for his services. The talented 28-year-old playmaker has since become a key figure for manager Arsene Wenger, scoring 27 goals and providing a further 47 to his Arsenal teammates in 134 appearances.
However, Ozil's future at Arsenal has come under some scrutiny in recent months amid the delays in the negotiations to sign a new deal at the Emirates Stadium, with his current one set to expire at the end of next season.
Last month The Mirror claimed that Arsenal have stepped up the negotiations to commit his long-term future to the North London– with a 200.000-a-week deal – marking a considerable rise from his current £140,000-a-week contract.
But earlier this week, Marca reported the German international would eventually love to return to Real Madrid, as he is still regretting his decision to leave the Champions League winners for Arsenal.
Ozil has now failed to diminish those speculations during an interview with the Spanish publication.
Asked whether his return to Real Madrid is still possible, Ozil said: "I am very happy playing in a club as big as Arsenal, which has incredible fans who encourage me a lot. I feel very good playing in London, but in football you never know... We'll see what happens in the future."
"I miss the (Madrid) weather. That sun is... there is always sun (in Madrid). I have great memories from my time there, with the club, the city, the people... Of course, sometimes you stop to think about it and well, you miss it... Now I'm happy in the Arsenal but you never know what may happen in the future. We will see..."
Yet, questioned whether he regrets leaving Real Madrid for Arsenal, Ozil added: "I do not make mistakes. I am happy to have taken this adventure in England, to have grown as a player and as a person. I am also very happy to play in a club as big as the Arsenal."