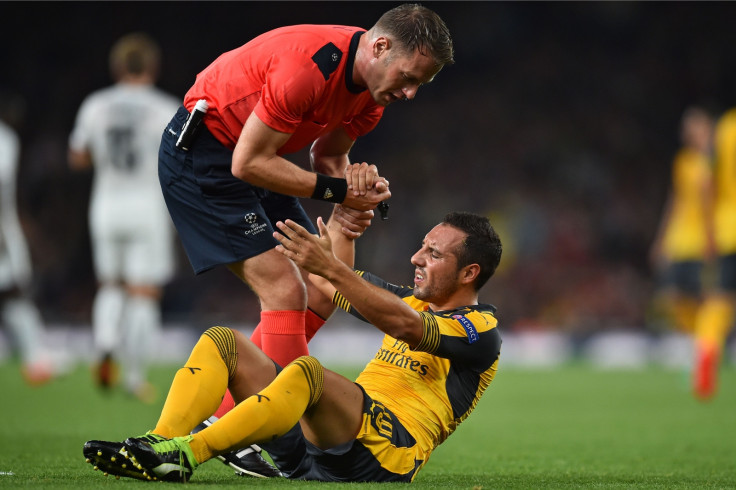 Arsenal star Santi Cazorla has been advised by top specialists to undergo surgery that would correct the Achilles tendon injury that has prevented him for playing since October, IBTimes UK sources understand. The Spanish maestro and the Gunners are expected to make a final decision in the coming hours, with the drastic measure set to keep the midfielder out of action until 2017.
Cazorla picked up a knock in his Achilles tendon during the 6-0 victory over Ludogorets on 19 October, being replaced by Mohamed Elneny in the second part of the game.
The 31-year-old midfielder was expected to return to action in a matter of days but has been unable to play since. He was badly missed in the draws with PSG, Middlesbrough, Tottenham and Manchester United, as well as in the EFL Cup defeat to Southampton on Wednesday night (30 December).
Wenger, speaking after the game with the Saints, refused to set a timeframe for the player's return to action, but ruled out any setback in his recovery.
"Cazorla, I don't know, honestly. It's just inflammation," Wenger said. "It can go in two days, two weeks — I don't know. He has no setback, the inflammation is just still here. At the moment, it's stable."
However, IBTimes UK sources understand that the Spaniard could be forced to undergo surgery to put an end to his woes.
Cazorla has not suffered any setback but the inflammation has not showed any sign of improvement either, despite being rested for a month. Earlier this week the former Malaga star visited a top European specialist to address the issue and has now been advised to go under the knife.
The player and Arsenal doctors have now to make a final decision, but it looks as though surgery could be the better option in the long term.
The drastic measure will keep Cazorla on the sidelines for a long spell but would at least allow him to be 100% fit to help Arsenal to fight for silverware in the latter part of the season. Should both parties decide to go ahead the operation could take place as early as next week.
Cazorla underwent a knee operation at this stage last year after suffering a rupture to his external knee ligament during a 1-1 draw with Norwich City. He was originally ruled out for between three and four months but eventually missed most of the campaign after his knee recovery was hampered by an Achilles issue.