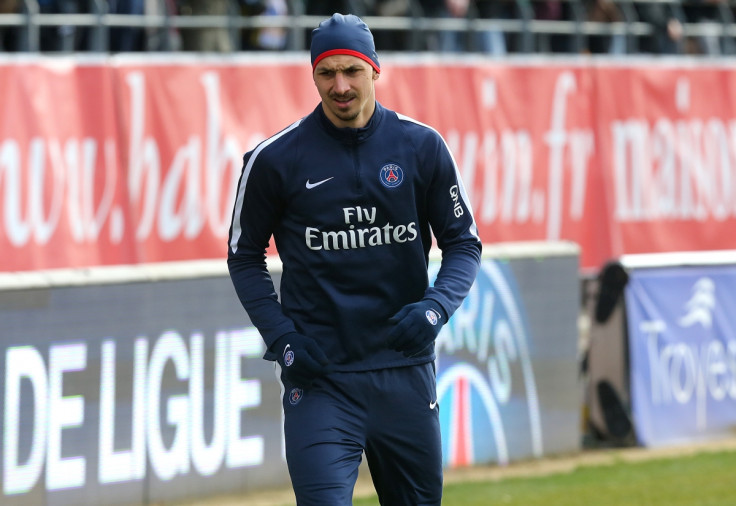 Arsene Wenger has moved to cool speculation linking Zlatan Ibrahimovic with a potential switch to Arsenal. The highly-quotable Paris Saint-Germain talisman is out of contract at the Parc des Princes this summer and, at 34, is likely to be presented with his final chance to add the Premier League to a truly illustrious playing CV that includes domestic titles in the Eredivisie, Serie A, La Liga and Ligue 1.
Recent reports from The Telegraph suggest that the Gunners have indeed been made aware of the player's interest in a move to England, with intermediaries said to have relayed his desire to play in London. Weekly wages of approximately £250,000 ($362,000) are cited as a probable stumbling block, although under-pressure Wenger insists that transfers are not on the agenda at present as he focuses on arresting an alarming slump in form.
"At the moment no we are not on that case," Wenger was quoted as saying by The Mirror when asked about the possibility of signing Ibrahimovic at a press conference. "Where we are at the moment is short term. We are not on Zlatan's case. At the moment my priority is not to go in the transfer market about possible signings. We are not at the moment thinking of signing anybody."
Manchester United have also been mentioned in conjunction with Ibrahimovic after The Sun claimed that he is utterly convinced that a move to Old Trafford and a reunion with Jose Mourinho is on the agenda, providing that his old Inter Milan boss does indeed succeed Louis van Gaal. Any agreement with Manchester City seems unlikely, however, given the bad blood that exists between him and incoming manager Pep Guardiola dating back to their previous stint at Barcelona.
The controversial Swede also has history with Wenger, of course, posing with a red and white number nine shirt back in 2000 before rejecting the chance to undertake a trial in north London and joining Ajax instead.
One formidable striker that Arsenal will have to concern themselves with ahead of their Premier League trip to Everton on 19 March is Romelu Lukaku. The Belgian international has notched 25 goals in all competitions so far this term, a hugely impressive run that includes six in his last six matches. He demonstrated the extent of his quality last weekend with a brace to deny former club Chelsea a place in the semi-finals of the FA Cup, and Wenger reiterates that he was on the radar during the early stages of his development at Anderlecht.
"Yes, we knew him in Belgium but at the time he opted to go to Chelsea," he added. "He is developing every year. His finishing is better, his technique is better. He has better numbers."