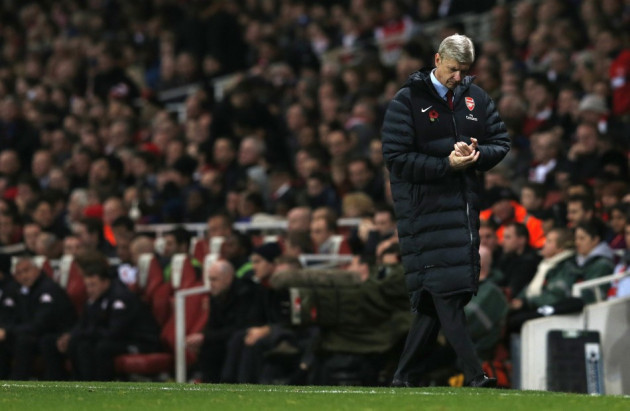 Former Arsenal manager George Graham believes that Arsene Wenger could learn some lessons from old rival Sir Alex Ferguson when it comes to continually competing for domestic honours.
Arsenal have now won the league title since 2004, while Manchester United have lifted the Premier League tophy four times since then, and have struggled to build a side capable of genuinely challenging as they consistently sell their best players to rival teams.
Samir Nasri and Gael Clichy both went on to win the Premier League with Manchester City, while Robin van Persie has fired Manchester United to the top of the league with eight goals in 10 games.
The Gunners have struggled to find replacements for this trio, as well as Barcelona pair Cesc Fabregas and Alex Song, and Graham believes that Wenger must look at the way that Ferguson has been able to continually rebuild his Manchester United side.
"He's [Wenger's] got to look at himself and see where he's not had success and work out why his old rival Sir Alex Ferguson has." Graham told the Alan Brazil Sports Breakfast show.
"Fergie has built teams over the years while he's still been winning trophies and that's the thing that makes me sad about Arsenal."
Graham won two league titles as well as the FA Cup and Cup Winners' Cup during his nine year spell in charge of Arsenal and has always remained a firm supporter of Wenger.
However, he has criticised the way the club is being run as he believes the board has been too willing to accept a top four finish, rather than helping Wenger build a side which is truly capable of challenging for the league title.
"The problem with Arsenal is their objective is to finish in the top four rather than aiming to win the Premier League title," continued Graham.
"They're quite happy to finish fourth and qualify for the Champions League. I understand the financial importance of the top four but, if Arsenal get through to the knockout stages of the Champions League, they class it as success and that's a problem for me."
Wenger admitted at the recent AGM that qualifying for the Champions League was like winning a trophy, however, it seems the fans would disagree as they crave some genuine silverware.
The north London club currently find themselves in eighth place and are already 11 points behind Premier league leaders Manchester United.