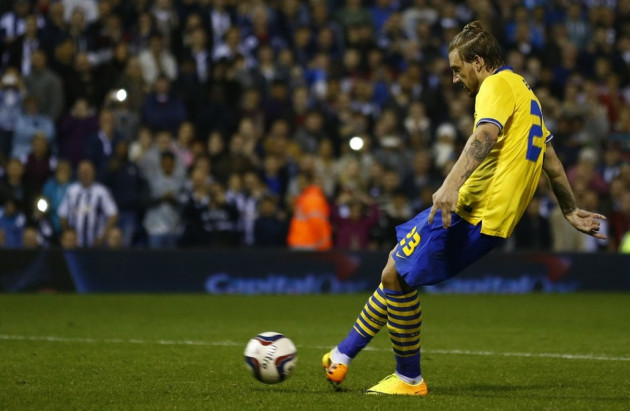 Arsenal striker Nicklas Bendtner was arrested for criminal damage at his luxury apartment complex yesterday.
Police interrogated the 25-year-old Denmark international after doors to a gym were smashed and a window broken at an apartment block in Bushey, Hertfordshire.
In a statement, Hertfordshire police said: "A 25-year-old man from Bushey has been cautioned for criminal damage and is no longer in custody. He was arrested in connection with an incident which occurred at an address in The Avenue, Bushey, in the early hours of 24 November."
Bendtner has scored 45 goals for the Gunners in 164 appearances since he made his debut for the North London club in 2005. The striker has struggled to make his mark at the club, being loaned out to a carousel of clubs including Juventus, Sunderland and Birmingham City.
Earlier this month, Bendtner allegedly spoke of his need to leave Arsenal, telling a Danish newspaper: "At the moment I am an easy target for [some of the fans] because I want to leave the club and Arsenal don't want to keep me. And these haters - they always choose the same solution. But I think it is unfair to have a go at me when I had a transfer in place in the summer and Wenger told me to stay.
"I am training far more seriously [now] than I have ever done in Arsenal. I am in the process of building myself up so that I become this strong machine, this perfect product to sell. I want to start as strongly as possibly in my next club."
This is not the Danish striker's first conviction of the year. Bendtner was previously fined £97,000 in March and banned from driving for three years after being caught driving over the legal drink-driving limit in Copenhagen.