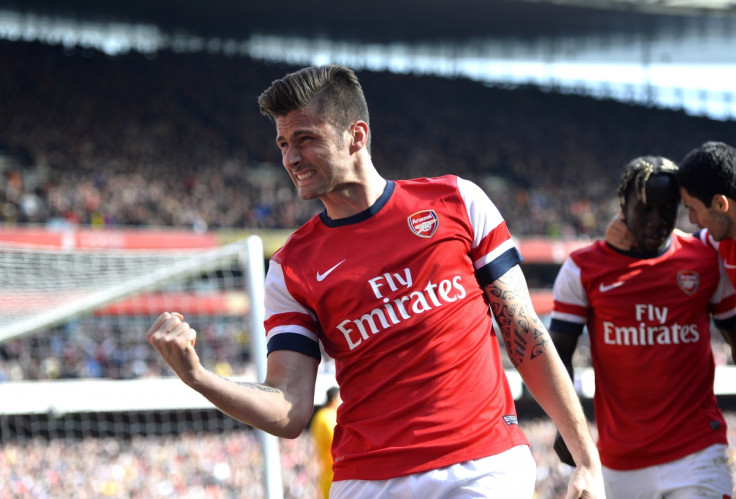 Arsenal manager Arsene Wenger has hailed Olivier Giroud's early return to action following an injury, claiming the France international striker gives the Gunners extra options in attack.
After breaking his leg against Everton in August, during the second Premier League game of the season, Giroud was expected to be out of action until the new year.
Wenger signed Danny Welbeck from Manchester United on deadline day in the summer to cope with his absence.
But Giroud recovered ahead of schedule and was back in the first-team squad for the 2-1 defeat against Manchester United on 22 November, scoring a sensational goal coming off the bench after missing nine Premier League games.
He has since also played against West Bromwich Albion, Southampton and Stoke City, and he netted a brace during the 4-1 victory over Newcastle United on 13 December, forging an impressive partnership with Welbeck.
"He gives us different options because we can go for a longer ball. We have plenty of players who can play short and he gives us a variety in our game," Wenger said to Arsenal official website.
"The first goal he scored against Newcastle was a typical 1970s goal. You love it as well because you see it less now."
The manager believes Giroud has returned even stronger ahead of the second part of the campaign.
He said: "The surgery made him realise - sometimes you love it and you miss it. Our fitness coaches told me that he was extremely motivated and that's why he came back so quickly.
"I believe in his mentality. He's a positive guy. Even when he misses something people forgive him because he has a positive mental impact with the physical impact as well.
"He worked very hard [to return from injury]. After the World Cup, he was not completely ready at the start of the season but I always said you always see the players back in November."