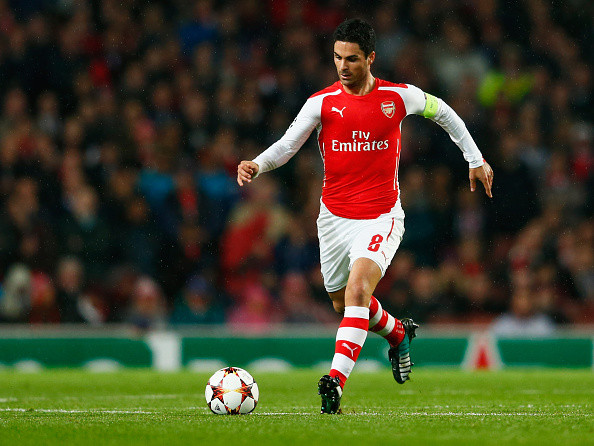 Arsenal captain Mikel Arteta has admitted he is destined for a secondary role in the new campaign after Francis Coquelin jumped ahead of him in Arsene Wenger's pecking order. The Spanish midfielder has been an instrumental figure at the Emirates Stadium both on and off the pitch ever since his summer 2011 move from Everton.
However, the 33-year-old midfielder made just 13 appearances during the last campaign after he suffered injury in a Champions League group game against Borussia Dortmund in November. Coquelin then seized the opportunity, after returning from his loan at Charlton, to become Wenger's first choice for the holding role during the second part of the campaign.
The future of Arteta was under scrutiny then, as he was out of contract and rumours linked Wenger with the signing of a new midfielder during the transfer window. But the Spaniard instead opted to remain at the Emirates for one more season, signing a new deal at the start of the summer.
But having made just two appearances this season, as a substitute in both the Community Shield win over Chelsea and the Premier League defeat of Crystal Palace, the Arsenal captain admits he is going to help the club from the bench, rather than as a starter.
"It's hard when you come on like this, when the team is hanging on to try to keep that result, but you need to get there with the highest intensity, start making an impact if possible, and it's a new situation for me," he explained to Arsenal's official matchday programme.
"I've never been like this before, a substitute. When you're sitting on the bench you just have to keep trying to see things happening, where the danger is, and think what can I do if I go on the pitch?
"Going from the outside to the inside is very different. Outside, everything looks slower, and when you get in there it's 100mph so you really need to be ready. You have to warm up really well and when you get there you have to be ready to go straight away."
Arteta, nevertheless, says that he is back to full fitness and hopes that sooner rather than later he will get his reward on the pitch.
"I'm feeling really good. After a difficult season, when I did not play since November 26, eight months is a long time to catch up. All the players are getting applause and you're getting nothing so you need to work hard to catch up," he said.
"I knew that I was starting at a disadvantage compared to everyone else because when you haven't played you have to start slowly. The time will come when hopefully I get my reward."