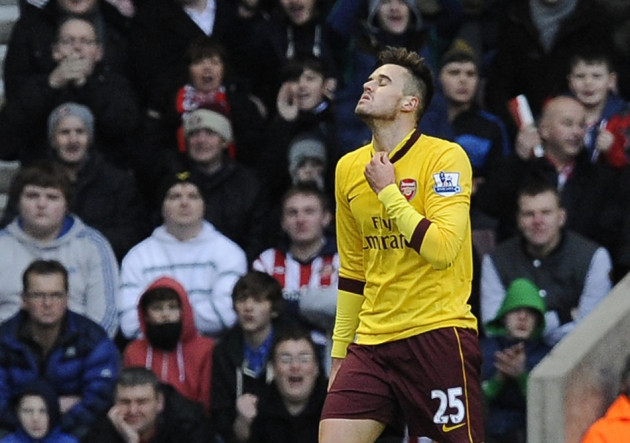 Carl Jenkinson says he hopes he can feature in the World Cup for England as he looks to become first choice at right back next season for Arsenal.
Jenkinson was signed by the Gunners in the summer of 2011, with Wenger showing great faith in the then 19-year old as he made the step up from League One Charlton to the Premier League.
The defender impressed when handed opportunities last season but was still second choice to Bacary Sagna when the Frenchman was fit. But Jenkinson believes that next season he will have the chance to show Wenger he is ready for regular game time and furthermore prove to Roy Hodgson he is capable of playing for England.
"It would be a dream for me to go to a World Cup and if I can play for Arsenal every week then I would give myself a chance," he said, according to the Telegraph. "But that's a big target for me.
"It's a big season for me. I look at it as a massive season. I've had a couple of years now where I've played, settled in and personally I've raised my level and get more chances.
"Hopefully I'll get more playing time than I did last year because that was a bit frustrating at times but I think this is an opportunity to show I'm ready.
"If I can play in some of these games then I think I can show that I can play week-in and week-out."
Jenkinson also insisted that it's his job to push the Sagna for his place in the side.
"Bacary finished up playing every week last season," he explained. "Most people would say he's first choice. He's a fantastic player and has been for many years. I've got the utmost respect for him.
"But he knows I want to push him for his place. I hope I can push on to the next level and ultimately take his place and play every week.
"The England call-up gave me a lot of confidence. Having the faith of Arsene Wenger is one of the biggest things in football and then getting a call-up from Roy Hodgson for England was massive for me.
"I like to think that I'm still in his plans. But he doesn't pick many players who aren't playing regularly so that's got to be the challenge to me.
"Everyone wants to play in the World Cup. That's the pinnacle. As a player you feel a bit more pressure, because it's so important for any player. It's a huge year for me."