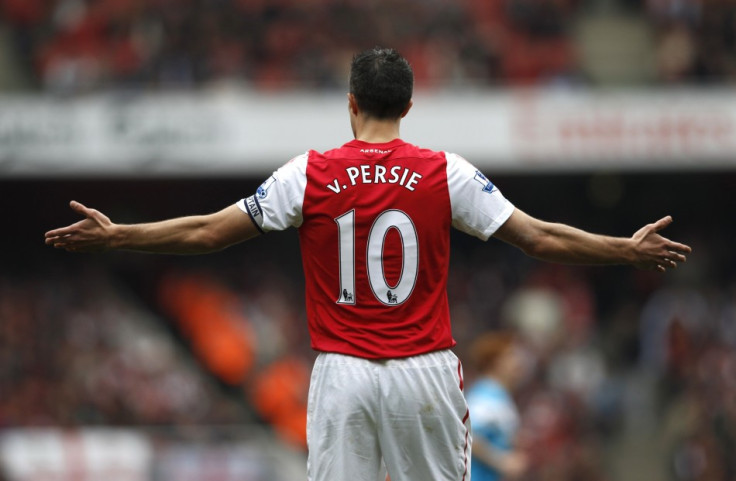 Arsenal are confident that Robin van Persie will stay with the club beyond next season, with Peter Hill-Wood insisting that the Gunners are happy to wait on the striker to discuss a new deal.
Van Persie has set the Emirates alight this season, scoring 18 times in 22 appearances as the side recover from the summer losses of Cesc Fabregas and Samir Nasri.
But the Holland international only has around 18 months left on his contract, and Arsenal will be faced with a dilemma similar to that of Nasri next summer if van Persie refuses to sign a new deal.
And though Arsenal fought until the last minute to keep Nasri, eventually losing the playmaker to Manchester City, Hill-Wood believes that van Persie will commit if given some time to consider his future.
"I think Robin wants to stay. He seems very happy," he said.
"Nothing has been discussed, though it is obvious we want him to stay. He doesn't want to talk about a contract now and that's fine with us."
Arsenal suffered a particularly disappointing start to the season, suffering a big loss to Manchester United and sitting in the bottom half of the Premier League table. But the club have gallantly recovered since making five big signings in the final 24 hours of the transfer window, and are now pushing for a top four spot and Champions League qualification.
In fact, while many pundits, and even Arsene Wenger himself at one stage, thought the title chase for Arsenal was over, the Gunners are now within nine points of leaders Manchester City, a deficit they can alleviate if they beat the Citizens this weekend.
The Gunners also proved their critics wrong by being the first English team to qualify for the Champions League last 16, shoring up top position in their group with a game in hand.
But fans will still be worried about van Persie's contract situation, with Theo Walcott, Johan Djourou and Andrey Arshavin also finishing their deals with the club in the 2013 summer.
Much of the four stars' futures will no doubt depend on whether Arsenal are able to challenge for trophies this season, with the side having gone more than six years without a decisive win.
And after the Gunners spiralled out of three competitions within two weeks last season - the Champions League, Carling Cup and FA Cup - van Persieis clearly waiting to see how this campaign pans out for Arsenal before making a final decision.