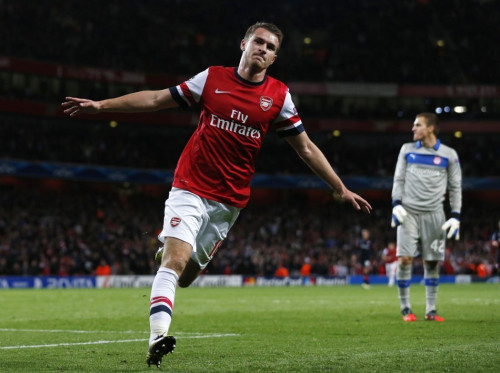 Arsenal have a major injury crisis ahead of their game against Fulham with almost eight players seemingly unavailable for the game.
The likes of Aaron Ramsey, Mikel Arteta, Tomas Rosicky, Nicklas Bendtner, Theo Walcott, Nacho Monreal, Abou Diaby and Thomas Vermaelen are all a bit short for the game, leaving the Gunners with little options to choose from.
Rosicky, who broke his nose against Aston Villa may play with a mask but is unlikely to be risked given the current state of the Arsenal line-up with regards to injuries.
Diaby and Walcott have been ruled out of the season with knee injuries while Ramsey, Arsenal's top scorer this season, has been out for almost a month with a thigh strain.
Arteta is also unavailable for Fulham and is likely to be available only after their fourth round game against Coventry City in the FA Cup, The manager is likely to persist with the same squad which started against Villa with Lukas Podolski likely to get a chance after missing out in the last game.
Alex Oxlade-Chamberlain is also back to full fitness but is likely to start from the bench before being gradually eased into the team. Wenger confirmed that he is unlikely to risk any player and will give them the time they need to recuperate before a gruelling run of fixtures in February and March.
"Monreal looks a doubt for Saturday, a big doubt, because he twisted his foot on the kick. It is not the bruise, he turned and twisted the ligament. Rosicky had surgery with a general anaesthetic for a broken nose in two places. With a mask he may be available, but we have to monitor it closely," Wenger told www.arsenal.com.
"Ramsey and Arteta are both out for this game. Vermaelen too. I personally believe the three will miss the Coventry game as well and will be available after that. Bendtner has a little chance to make Coventry. But in all probability it will be after that," he concluded.