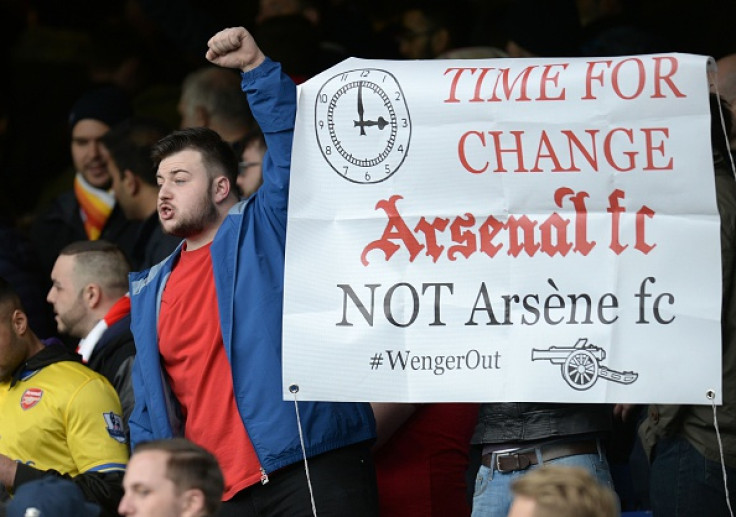 Former Arsenal midfielder Emmanuel Petit has put his boot into Arsene Wenger for his side's failings this season. The Frenchman reasons that the Gunners should have won the title on a canter this season after the likes of Manchester United, Manchester City and Chelsea have failed to live up to expectations, something which is unlikely to repeat itself in the near future.
"Do you think Chelsea, Liverpool, Man City and Manchester United will do the same next year? Forget it. They will come back strongly. If this year, you cannot compete with Spurs, with all the respect I have for them, and Leicester, then change your sport. I'm sorry," Petit said, as quoted by Goal.
The Gunners are currently 11 points behind league leaders Leicester City and six behind Tottenham Hotspur, albeit having played a game less. However, their woeful run over the last couple of months, having won only one game in a run of seven played in all competitions – before winning against Everton at the Goodison Park – has all but ended their hopes of a title win, something Petit believes is down to Wenger's belief in the club's academy, which has failed to deliver yet again.
The likes of Theo Walcott, Alex Oxlade-Chamberlain and Jack Wilshere have not featured on a regular basis this season and even when they did, they were found wanting in the middle of the park. Nonetheless, Petit wants Wenger to invest in proven individuals who can add experience and leadership to the side, traits which they are severely lacking.
"Arsenal's academy policy is very good, up until a certain point - there is a limit," Petit told Sky Sports. "There are a lot of players coming from the academy who are good but they have failed to improve over the last three or four years.
"If you want to exceed this limit [of the academy], you have to bring in experienced players - big names, big characters, players with winning mentality. They need to bring leaders into this team. They have quality, no doubt, they have big players but not enough. They need leaders, big characters and players that hate to be beaten and love to win - not only games but titles," he added.
"They fail at the final step every time, at this crucial time of the season. That means they need something to improve the closing stages of the season. That, for me, would be spending the money. Barcelona, Real Madrid and Bayern Munich are all spending money on top players to improve their team and results," the former midfielder concluded.