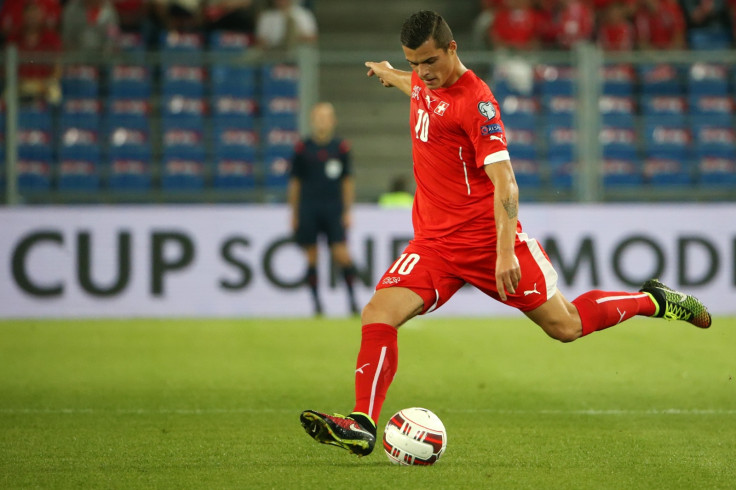 Arsenal's new signing Granit Xhaka has revealed that he was influenced by ex-Gunners players Johan Djourou, Havard Nordveit and Phillippe Senderos in his move to the Emirates. All three players were part of the Arsenal set-up and convinced Xhaka that the family-like atmosphere at the north London club would be beneficial for him.
The Swiss international is known for his hard brand of football, for which he has been punished multiple times over the course of Borussia Monchengladbach's season. The 23-year-old has picked up three red cards and seven yellows, more than any other player in the German first division. The midfielder is believed to have made his way for a fee in the range of £30m ($44m), according to the Mirror.
Xhaka has spent four years in the Bundesliga, while coming in from Basel and insists that he is already enchanted by the positive atmosphere at the club. He is Arsenal's first major signing of the campaign.
"I spoke with [Nordtveit] about Arsenal and he told me it's a big club, a family club and it's very important for me to come here," Xhaka told Arsenal's Official website.
"Philippe played here and I play with him in the national team. Johan and Philippe have only told me positive things. Arsenal is Arsenal. It's not a small club, it's a very big club and it's like a family. It's very good for me because I love my family and to have another family here is very good."
Xhaka also spoke fondly of Mohamed Elneny, who joined the Gunners last January from Basel. However, the Swiss international never played alongside the Egyptian as he had already transferred to Germany by the time Elneny arrived in Switzerland.
"I know him by name, but when I went to Monchengladbach he came to Basel. My brother played with him and I had heard of him before I came here. In Switzerland we produce very good young players and many of these players have come to England. That's very good," Xhaka added.