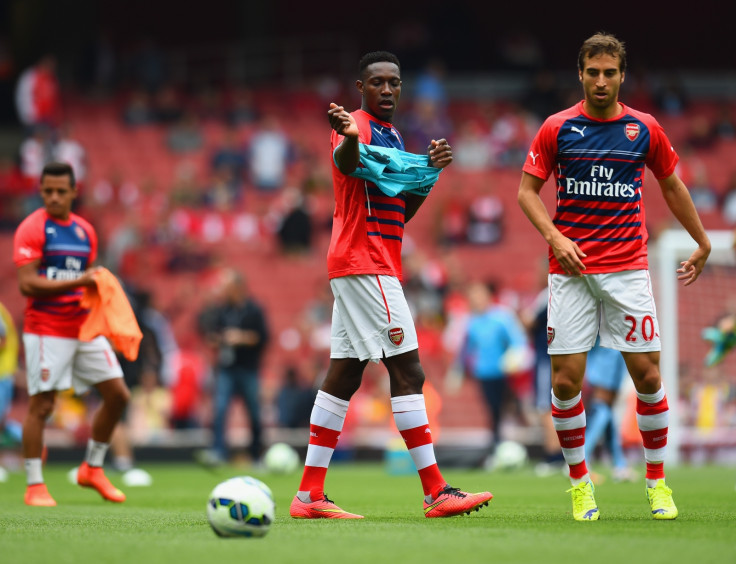 Arsenal forward Danny Welbeck has confirmed that he will be back in action for the Gunners around New Year, which should give him enough time to recuperate for the European Championships scheduled for 2016. Welbeck has not kicked a ball this season owing to a knee injury which kept him sidelined since April and for which he has undergone surgery.
Welbeck's arrival will be a major boost for Arsene Wenger going into the new year, given the paucity of striking options he has at his disposal. Theo Walcott has been given a starting role ahead of Olivier Giroud, who has recently expressed his desire to come back into the first eleven.
The Gunners are also without Jack Wilshere and Tomas Rosicky, with both likely to be available during that period after having gone under the knife to recuperate from injury. Welbeck joined the club from Manchester United last season on deadline and had his redemption in the quarter-finals of the FA Cup at Old Trafford in 2014 where he scored the winner to knock the Red Devils out of the tournament.
The 24-year-old is raring to come back on to the bench, having spent six weeks under a brace and has only recently been able to stretch his legs. "It's difficult to put an exact date on it, around the New Year. After I had the operation I was in a leg brace for about four weeks, which wasn't easy. I had to do a lot of machine work, about six hours a day. Sleeping in a leg brace isn't good. At night it's not comfortable; it was the first time I slept on my back in years. It's good to finally be out of the brace now and walking. It feels like I'm getting that little bit closer to getting back out on the pitch," Welbeck told the National.
Welbeck is not too worried with the competition for places between him and Walcott, stating that any such conundrum would be healthy for the team in the long run. The 26-year-old has two goals and two assists in five starts in the league thus far and is looking good to overshoot his best season at the Emirates.
"We've got players throughout England and in the Arsenal squad who can do the business on the pitch and Theo's been doing that. It's obviously something he's been working towards. He had a lengthy injury beforehand and now that he's back he's obviously trying to kick on and improve and that's what he's been doing. It's good to have the healthy rivalry – it gives the manager a selection problem. It's a good headache for him to have. That competition in the squad is only healthy," he added.