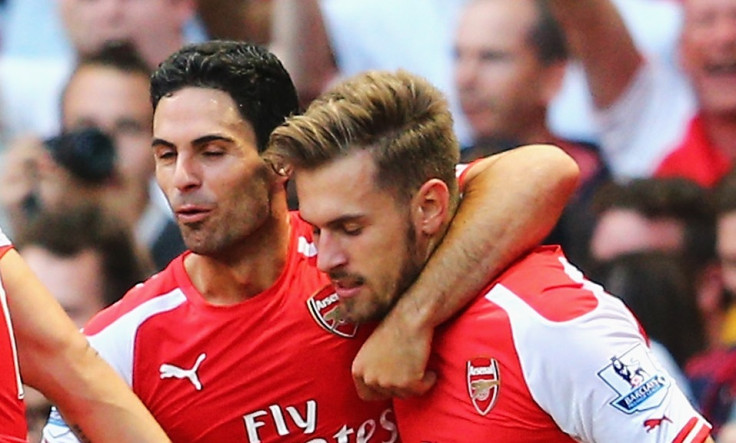 Arsenal manager Arsene Wenger has revealed Mikel Arteta has suffered a setback in his recovery and not will be ready to return to action until January.
Meanwhile, goalkeeper David Ospina and midfielder Tomas Rosicky are back for the Boxing Day game against QPR while Laurent Koscielny, Hector Bellerin and Aaron Ramsey remain on the sidelines for the match.
Furthermore, Wenger has confirmed Mesut Ozil will be ready to return to action earlier in January.
After their 2-2 draw against Liverpool on Sunday (21 December), the North London side host Harry Redknapp's team on Boxing Day before two successive away matches at West Ham, on Sunday 28 December, and Southampton, on New Year's Day.
Arteta suffered a calf problem during the victory over Borussia Dortmund last month and has since been unable to play.
The captain was expected to return to action before the new year but Wenger has now claimed the recovery has been delayed.
"Arteta is progressing well. He had a little set back and will not play before January," Wenger said.
The manager also revealed that Koscielny and Bellerin may be ready to return to action against West Ham while Ramsey will miss both derbies against QPR and West Ham but could be ready for the trip to the Saints.
"Ramsey could be back for Southampton," the boss confirmed.
Wenger has also said that Ozil will be back at the start of January after recovering from a partial ligament tear suffered earlier in the season following the defeat at Chelsea in October.
"Fitness wise, he's there. He'll be back at the beginning of January. He works very hard and is very focused", said Wenger.
Meanwhile, when asked about the draw against Liverpool and the upcoming busy Christmas period, he added: "The result [against Liverpool] was not a disaster.
"Boxing Day football is something special. Only England plays and this contributes to why the Premier League is so famous. It's a London derby and we expect QPR to come and have a go at us. We have to take advantage of our Christmas schedule."