Watford captain Troy Deeney has delivered a scathing assessment of Arsenal, suggesting the Gunners lack the fighting spirit required to succeed in the Premier League.
Arsene Wenger's men suffered a shock defeat at Vicarage Road on Saturday (14 October), as the host came from behind to win 2-1 courtesy of a controversial penalty from Deeney and a late winner from Tom Cleverley.
The Arsenal manager blasted referee Neil Swarbrick's decision to award Watford a penalty after Gunners right-back Hector Bellerin was ruled to have fouled Richarlison in the box.
"I would say it was not a penalty. It was a decision from the referee and that's it," said the Gunners boss.
"It is a scandalous decision. It came at a moment in the game where it was absolutely important for Watford. No penalty, no goal.
Speaking to BT Sport after the game, however, Deeney swiftly dismissed Wenger's comments, suggesting Swarbrick's decision had very little impact on the outcome of the game.
"I've heard Wenger's already blaming that [the penalty] as the reason they lost," he said.
"Well, I'm not one to tell Mr. Wenger about himself, but the reason they lost wasn't due to one penalty.
"Having a bit of cojones, I think the word is. Whenever I play against Arsenal – and this is just a personal thing – I go up and think 'let me whack the first one, then we will see who wants it'."
Arsenal's penchant for buckling under pressure and their lack of ruthlessness have been widely criticised over the last couple of seasons and Deeney suggested those familiar shortcomings were laid bare again at Vicarage Road.
"I came on today and jumped up with [Per] Mertesacker – I didn't even have to jump up actually – nodded it down and the crowd gets up," he added.
"They all just backed off. For me, as a player, I just think happy days. That's my strength, so if you're going to let me do that against you, you're in for a tough afternoon."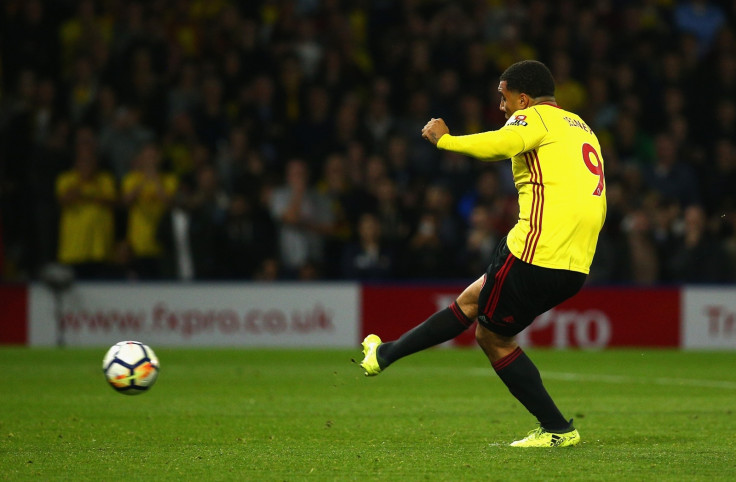 Coupled with Chelsea's defeat at Crystal Palace, the result means Watford now occupy a Champions League spot and are just two points off Tottenham Hotspur in third place. Arsenal, meanwhile, are already nine points behind league leaders Manchester City after suffering their first league defeat since their 4-0 capitulation against Liverpool in August.
Former Arsenal defender Martin Keown blamed Mesut Ozil for the defeat, after the German squandered a glorious chance to put his side 2-0 up.
"I feel he (Ozil) was at fault for the late goal conceded," he told BT Sport.
"I don't know whether there is a future for him now in this Arsenal team and I know it looks like I'm coming for him all the time but he really should have finished the game off.
"He's just missed an opportunity to win the game for Arsenal and everything that happens afterwards wouldn't have happened. I don't know if he cares enough or not but he's certainly not ruthless enough."