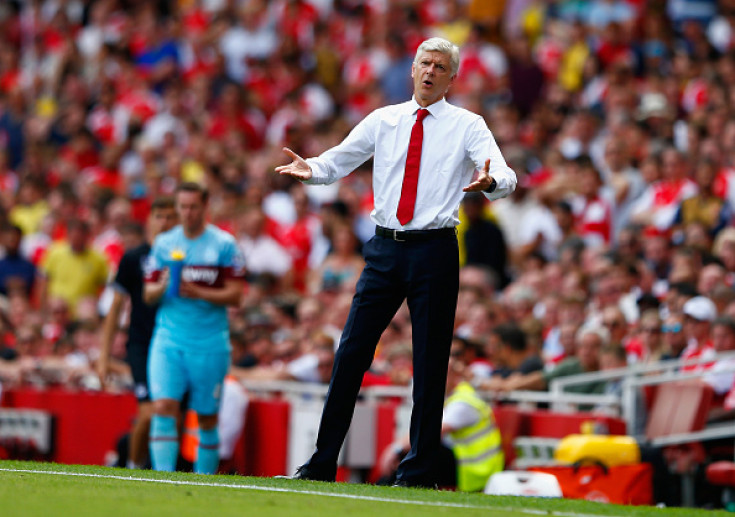 Arsene Wenger has claimed that lack of incisive passing and inconsistent performance in both attack and defence led to Arsenal's 2-0 defeat against West Ham United on 9 August.
Cheikhou Kouyate and Mauro Zarate's goals saw Slaven Bilic seal a victory in his first Premier League game as a manager in the season-opener at the Emirates.
Petr Cech, who arrived at the club after making a switch from Chelsea earlier this summer, did not have a great debut for the Gunners. The Czech Republican international's errors led to both the goals and Wenger criticised his players for conceding two "cheap goals".
"I think our performance was not convincing. On the two aspects of our game, going forward and defending. Overall we were punished," Wenger told Arsenal's official website.
"On top of that, I feel we gave two very cheap goals away and they were at the wrong moments - just before and after half-time with two minutes to go, and just after half-time. We gave ourselves a mountain to climb.
"West Ham looked a bit sharper than us, more advanced in preparation than us. In the end we wanted, but it was not convincing, not agile, not quick. Our passing was too slow and in the end we were punished.
"Our passing was not incisive enough. I bought Walcott on with 35 minutes to go and I had no time to bring him on. We conceded the second goal [before]," he added.
"After that they defended deep and gained time - the usual thing you face when you play at home and are losing. I believe that we are maybe guilty at 0-0 of giving them a goal as soft as that," the Gunners manager said.
This victory for West Ham comes just three days after they were knocked out of the Europa League third qualifying stage following a 4-3 aggregate defeat to Astra Giurgiu. Wenger has claimed that Arsenal's London rivals were "advanced in their preparation" for the season-opener.
"West Ham are a bit more advanced in their preparation than us. They've played many competitive games in the Europa League," the Frenchman explained.
"I knew before game it would be tricky game on that front. A big part of it was not to concede, even if we played for a 0-0. The way we conceded the goal just before half-time, with experience we have in our team, is difficult to understand," he stressed.
Arsenal will make a trip to Selhurst Park as they face Crystal Palace in the next league clash on 16 August. Alan Pardew's men sealed a 3-2 victory over Norwich City in the first match of the season.