Nacho Monreal believes that it will be easier to adapt to life at Arsenal as the north London club have a similar footballing philosophy to that of World and European champions Spain.
The 26-year-old made his Arsenal debut in the 1-0 win over Stoke in what is sure to have been a culture shock against a side with a reputation for being very direct and physical.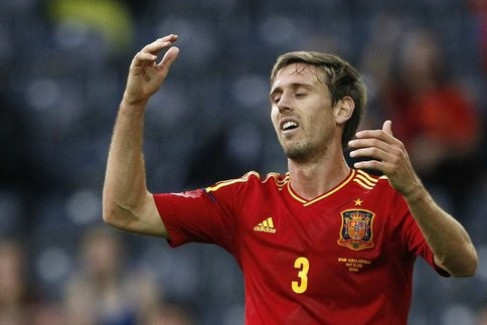 While the Spain international believes that the Premier League is very different to La Liga, he admits that it has been slightly easier to adapt to playing for Arsenal as manager Arsene Wenger likes his players to see plenty of the ball.
"The Premier League is one of the strongest there is and everyone knows about it. It's a completely different way of playing to the Spanish League - it's a lot more physical, for example. As the days go by I'll get used to things and I'll give my all," Monreal told the Arsenal website.
"Arsenal like to keep the ball, which is beneficial for me and I like this part of the team's game. I love playing with the ball at my feet, short, sharp touches, and good movement.
"I think Arsenal do have certain elements of Spanish football philosophy. The Spanish people know that there are players of great quality in this team and I hope we can play good football."
Spain have become the masters at dominating play with their intricate football and numerous Spanish players have been able to bring this style to the Premier League.
The likes of David Silva and Juan Mata have been sensational since moving to England, while Arsenal midfielder Santi Cazorla has been a revelation since joining the club from Malaga in the summer.
Monreal played alongside Cazorla at Malaga and he has revealed that he did speak with his fellow Spaniard when he learned a move to the Emirates was on the cards.
"Yes, I spoke to Santi, we had a long conversation about things," added Monreal. "I asked how things were here and he only had very positive things to say. He said that Arsenal was a massive club, the people are great and it's really just a big family. He only had good things to say. I am sure we can be successful this season and I am really looking forward to the challenge.
"Yes it does [help that Cazorla has been a success]. It helps that I've been able to share a dressing room with him at Malaga, that everything's gone well and that the people here have been incredible in welcoming me.
"As there's a familiar face in Santi, I'm a lot calmer about things. Having shared a dressing room with someone who's already made this journey is a good feeling. Now it's my turn and I can't wait to follow in his footsteps."