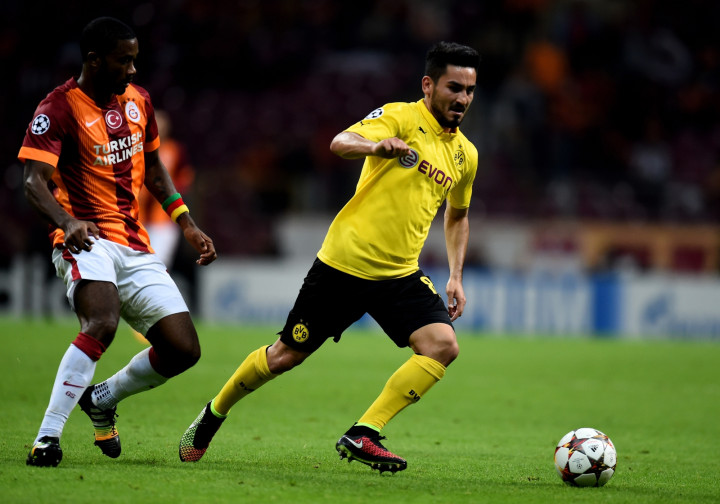 Borussia Dortmund midfielder Ilkay Gundogan has alerted Manchester United and Arsenal after insisting he remains open to a move to the Premier League.
Germany international Gundogan recently returned to Jurgen Klopp's side after a back problem that ruled him out for 14 months.
Prior to that injury, the 24-year-old was heavily linked with a move to Old Trafford after a season where he played an integral role in the Dortmund side that reached the Champions League final in the 2012/13 campaign.
Real Madrid were also keen on a move for the midfielder only to see their offer rejected by the Bundesliga giants.
While Gundogan is eager to concentrate on his football after his lengthy spell on the sidelines, he admits he still aspires to play for one of England's biggest clubs.
"Real Madrid made an offer for me but my club refused it," Gundogan was quoted as saying by the Manchester Evening News.
"At the time I had two more seasons on my contract. But also, my injury wrecked everything. I couldn't play for 14 months.
"Now I want to look forward and make up for lost time with sporting success.
"Playing outside Germany is one of my big goals. If one day I leave here, I'd like to play in Spain or for one of the big teams in England."
Gundogan signed a contract extension at the Westfalenstadion in April, which will keep him at the club until 2016. After his lengthy layoff, the midfielder returned to action in October and has since made five appearances for the club as Dortmund attempt to reverse their fortunes in the Bundesliga.
Dortmund currently sit third from bottom in Germany's top flight after surrendering a two-goal advantage to draw 2-2 with Paderborn on Saturday 22 November in a game that saw Marco Reus stretchered off with another ankle problem.