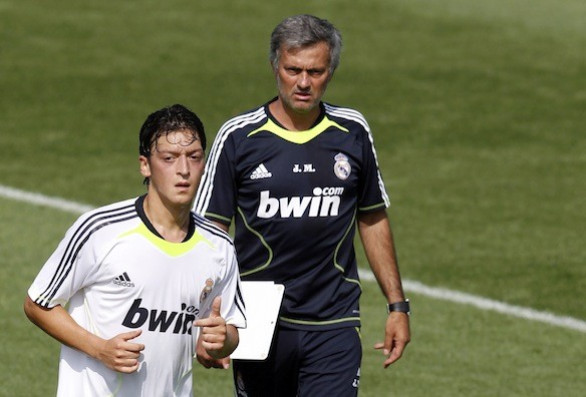 Mesut Ozil has revealed he loves Chelsea manager Jose Mourinho 'like a father', with the Arsenal midfielder claiming that he is the best manager in the world.
Ozil gave his shirt to Mourinho after the Gunners were ousted from the Capital One Cup by Chelsea during the week and explained afterwards just how much the manager means to him.
"I gave my jersey to Mourinho because he's the best coach in the world and I love him like a father," he told reporters.
The news won't be well received by Arsene Wenger, who has often had a prickly relationship with the man who is now in his second stint with Chelsea. But Ozil has a long history with Mourinho, having worked with the manager at Real Madrid, with both departing the club in the most recent summer, one for Chelsea and the other for Arsenal.
The Germany international has excelled under the guidance of Arsene Wenger and had hinted that he didn't feel that incoming Real Madrid manager Carlo Ancelotti had enough faith in him to produce for the Spanish giants this season.
Mourinho left Madrid under controversial circumstances, with many of the club's supporters turning on him towards the end of his tenure as he dropped some of the stalwarts in the hopes of imposing his own style of play on the squad.
The manager has acted similarly at Chelsea, making Juan Mata fight for his place in the side despite the midfielder being the standout player for the club in the last two seasons.
But for Ozil, Mourinho was the man that took him from a player full of potential to one of the world's best midfielders. The 25-year-old was one of the Portuguese managers' first signings when he joined Madrid in the summer of 2010 and since he departed the Spanish capital for Arsenal his lack of presence has been noticed by both supporters and fellow players.