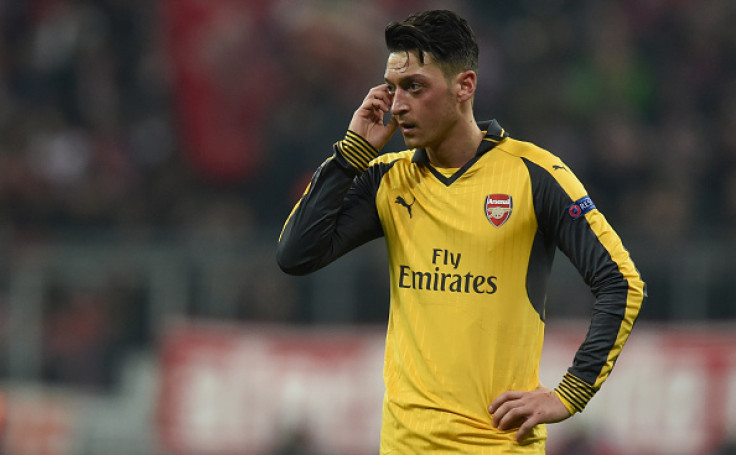 Mesut Ozil is just being made a scapegoat for Arsenal's problems on the pitch, according to the player's agent Dr Erkut Sogut.
The Germany international has come under severe criticism for his performances in recent games, which have also coincided with the Gunners losing three of their last four matches in all competitions. They lost in the Premier League to Watford and Chelsea, but the most recent 5-1 humiliation at the hands of Bayern Munich in the Champions League was the final straw that brought every critic to the fore.
Arsenal are out of the title race in the Premier League and are now almost – can never say never – certain to be knocked out of Europe in the coming weeks, which brings a sense of déjà vu if you look back at the seasons gone by. Calls for Arsene Wenger to step down have increased from not only the supporters but former professionals as well.
Ozil started the season in fine fashion scoring and assisting goals, but it has dried up in recent weeks with the midfielder managing just one assist in 2017 and his last goal coming against Stoke City in December. There have been calls from some quarters to drop Ozil from the starting lineup, but Wenger stuck with him for the clash in Germany, and his lack of impact along with the rest of his teammates has seen him take the brunt of the criticism in the aftermath.
"Criticism is normal if a player plays badly. But Mesut feels people are not focusing on his performance; they are using him as a scapegoat for the team after bad results," Sogut told BBC Sport.
"Bayern had 74% possession. How can someone in the No 10 position create chances if you don't have the ball? In these games people usually target a player who cost a lot of money and earns a lot of money - that is Mesut. But he can't be always be the scapegoat. That's not fair," Ozil's lawyer and representative explained.
"Football is a team sport and Arsenal are not performing well as a team. Eleven players were on the pitch but Mesut was singled out for criticism. Was he the reason that Arsenal conceded five goals?
"It started before the match, throughout the week leading up to the game. People started discussing: 'Should he play? Should he be dropped?
"It was as if everyone knew Arsenal would not make it through and we needed a scapegoat. This is not right. You win as a team and you lose as a team," he added.
'Committed to Arsenal'
Sogut insists that the recent criticism has not affected the player's mental state and that he remains fully committed to Arsenal. The former Real Madrid star's representative also conveyed his client's apologies to the supporters for the team's poor showing at the Allianz Arena.
"I don't think the criticism has affected his performance or his mental state. Mesut is committed to the club. There is no doubt that he will perform at 100%, with total professionalism and commitment as long as he plays for Arsenal. Nothing will change that.
"He is sorry to the fans, and he's sorry that he and his team-mates couldn't give the fans a better result in Munich," he added.