Arsenal contract rebel Mesut Ozil would be 10 times a better player if he shared Tottenham Hotspur counterpart Dele Alli's nasty streak, according to former Gunners stalwart Lee Dixon.
The one criticism often levelled at Alli during his phenomenally swift rise from League One player to influential performer for both Spurs and England is his somewhat aggressive temperament.
The 20-year-old was sent off for a terrible shin-high tackle on Belgian midfielder Brecht Dejaegere during the second leg of February's Europa League last-32 aggregate defeat to Gent and last season he kicked out at Fiorentina defender Nenad Tomovic before later being given a three-match suspension for punching Claudio Yacob in the stomach during a Premier League clash with West Bromwich Albion.
While Alli believes he has calmed down a bit this term, he insists he is not going to take that competitive edge out of his game and will never "say sorry for wanting to win or trying as hard as I can".
Assessing Alli's impressive ascension prior to England's 1-0 friendly defeat in Germany on Wednesday night (22 March), Dixon, in his role as a pundit for ITV, challenged the oft-maligned Ozil to discover his own mean side.
"He's [Alli] playing in the first team long-term because he's doing something right," he said, according to The Mirror. "The fact that he's come into the Tottenham team and they're building a team around him, his talent is limitless.
"If [Mesut Ozil] had half of what Dele Alli has got, that nasty streak, he would be 10 times a better player than he is because he hasn't got what Dele Alli has."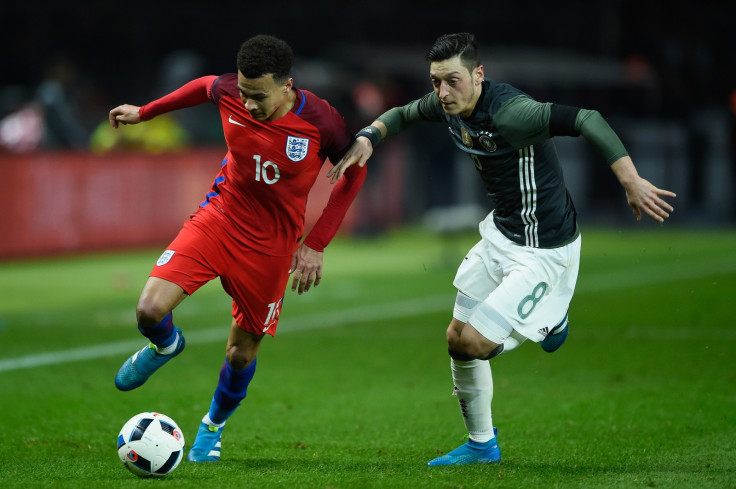 Ozil, often lambasted for a lack of consistency and impact during key matches, did not feature for Germany during a somewhat fortunate victory earned by the retiring Lukas Podolski due to a hamstring injury suffered during training that ruled him out of Arsenal's fourth defeat in five top-flight matches against West Bromwich Albion.
Out of contract in 2018, recent reports from The Telegraph suggest that Turkish giants Fenerbahce have emerged as potential suitors for his signature. Arsene Wenger is said to be willing to listen to offers for the club-record signing, with Arsenal apparently seeking to recoup at least £30m ($37.5m) of the £42.4m fee they paid to sign him from Real Madrid in September 2013.
Providing a new update on Alexis Sanchez and Ozil yesterday during a revealing interview with beIN Sports, Wenger revealed that contract negotiations with the duo had been shelved until the end of the season.
"Look, at the moment we have not [reached] an agreement [with Sanchez]," he said. "We decided to focus on the end of the season and talk about it during the summer. It is the same situation with Ozil, because once you don't find an agreement and it lasts, it's not good. So it's better you get it out and sit down during the summer."