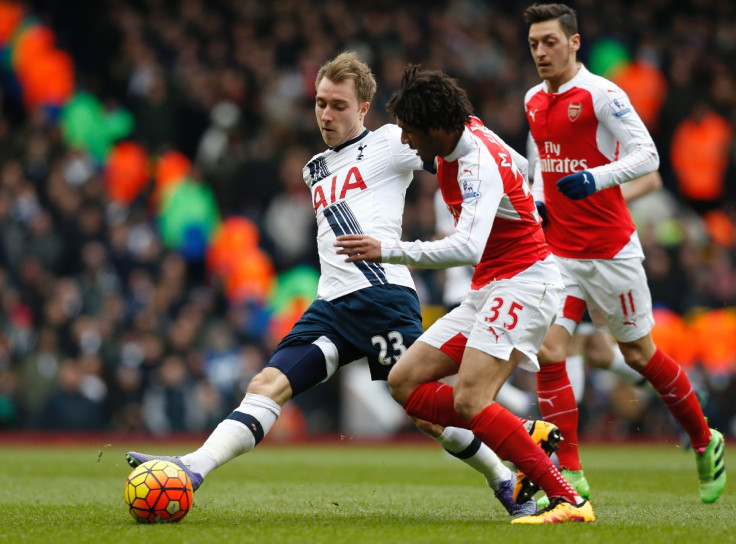 Arsenal midfielder Mohamed Elneny has implored Arsene Wenger to consider him for a place in the starting 11 after putting in a valiant performance against Tottenham Hotspur at White Hart Lane. The midfielder made his first start in the league alongside Francis Coquelin and the duo managed to keep Tottenham out before Coquelin's ill advised tackle on Harry Kane saw him being shown a red card.
Elneny was substituted soon after to be replaced by Olivier Giroud but his ability to do the dirty work and also keep the ball rolling in the middle of the park would have caught the eye of the manager, who is looking at various permutations and combinations to bring the Gunners' season back on track. Aaron Ramsey, who has generally started in midfield this season was stunted to the right as the Gunners reverted to a system which reaped them huge benefits earlier in the season.
Santi Cazorla was the man deputised alongside Coquelin but the Spaniard's absence has allowed Elneny to sneak in and the Egyptian is likely to make a start against Hull City in the FA Cup replay at the KC Stadium. However, his prime target would be to start performing in the league, something he believes he has earned the right to after the game at White Hart Lane.
"Arsene Wenger has confidence in my abilities and the abilities of all the players," Elneny told beIN Sports, as quoted by Goal. "We had a good game against a strong opponent. I wanted to prove that I deserved a place in the starting line-up, and I think I earned my place today."
The Gunners are currently eight points adrift of Leicester City at the top with nine games left in the season and three behind Tottenham, who are second. However, with the form they are currently in, having gone five games without a win in all competitions, it will need a turnaround of gigantic proportions for the Gunners to have any chance of ending their 11 year wait without the title.