Arsenal news: Alexis Sanchez targets Premier League and Champions League with Gunners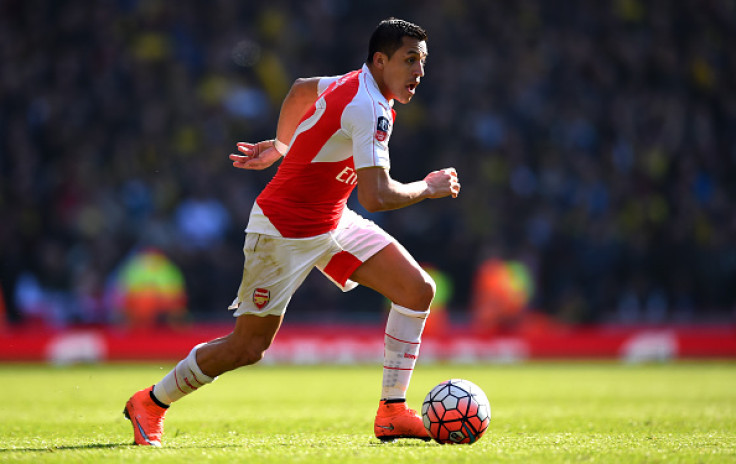 Alexis Sanchez has admitted that he is not happy with his performance at Arsenal and expressed his desire to win the Premier League and the Champions League. The Gunners were the holders of the FA Cup for the last two seasons and their hope of winning it for the third time was crushed when they suffered a defeat at the hands of Watford.
The north London club have been knocked out of the Champions League by Sanchez's former club Barcelona. In the Premier League, Arsene Wenger's side sit third in the table with 58 points after 31 matches, 11 points behind league leaders Leicester City, who have played a game more than Arsenal.
"I think I have adapted well to the club, but I am never satisfied with what I do. I want to win the Premier League, the Champions League. I always want to win everything," Sanchez explained, as quoted by the Mirror.
"Football is my passion, my life and I always want to win. If I lose, I always go home sad, I can't sleep and that upsets me. When I win, my teammates are happy and enjoy their families the next day. Football is my life."
Sanchez moved to the Emirates from Barcelona in the summer of 2014 and had an impressive debut season, scoring 24 goals and registering 12 assists. However, the Chilean international has failed to replicate his last season's form.
The 27-year-old suffered a hamstring injury last November and was sidelined for three months. He revealed that fear of getting injured again has held him back, which is the reason behind his struggle at Arsenal this term.
"Before my injury I was 100% fit. I was feeling well. After the injury I wanted to get back but it was hard," the former Barcelona star said.
"I had a setback and when I played a match, I was scared I would get injured again because the thing I like most in the world is playing football and when I can't play, I feel sad."
© Copyright IBTimes 2023. All rights reserved.