Tottenham Hotspur chairman Daniel Levy reportedly contacted Real Madrid to try and persuade them to not sell playmaker Mesut Ozil to Arsenal on transfer deadline day.
The Germany international became the most expensive signing in Gunners' history when he moved from the Bernabeu to the Emirates for £42.4m on Monday, after the Meringues completed the much-awaited deal for Spurs winger Gareth Bale for a world record fee of £84.7m.
Ozil is currently regarded as the best no.10 in world football and his capture is seen as massive coup for Arsenal, with majority of the pundits labelling it as the best signing of the summer.
According to Spanish newspaper El Confidencial, Levy felt betrayed that Madrid - who officially formed a partnership agreement with Tottenham following the sale of Luka Modric last summer - not only lured away their best player once again but also allowed one of La Liga's stars to join Spurs' archrivals.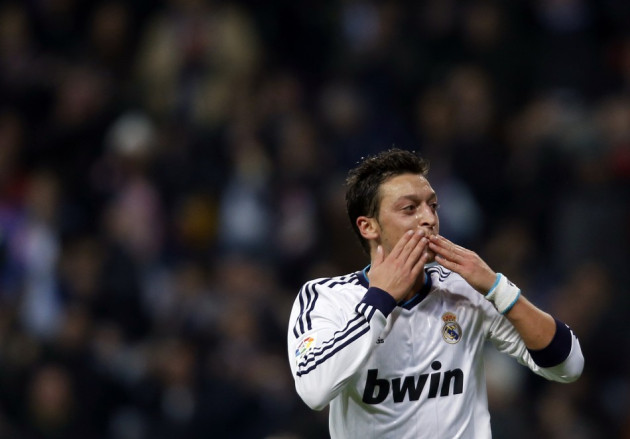 The agreement announced by Tottenham last year, promises the two clubs "working together in respect of players, coaching, best practices and commercial relationships". The report claims Levy requested Madrid president Fiorentno Perez to respect the deal and not sell Ozil to Arsenal but the Spaniard politely informed him that the transfer was already completed.
It is also understood that Ozil was one of the players Levy was keen on having in exchange as part of the deal that saw Bale moving to Madrid. But Perez had then insisted the 24-year-old was not on the market and would not be sold this summer.
Meanwhile, a section of the Spurs supporters have submitted a petition, signed by over 1,600 fans, to terminate the club's partnership agreement with Madrid and have criticised the La Liga giants for taking advantage of them.
"We, the devoted and loyal fans of Tottenham Hotspur Football Club are petitioning to end the 'strategic partnership' with Real Madrid Club de Futbol. Since we have agreed to form the partnership, Real Madrid C.F. have treated us and our players without respect including 'tapping' up Luka Modric and Gareth Bale," read a statement above the petition.
"The transfer of Mezut Ozil to our top rivals in order to recoup money spent on Gareth Bale is the ultimate duplicitous action and we deserve a fair and mutual exchange between clubs rather than being treated as a feeder club. We ask that the "strategic partnership" that we have not benefitted from be terminated," it added.