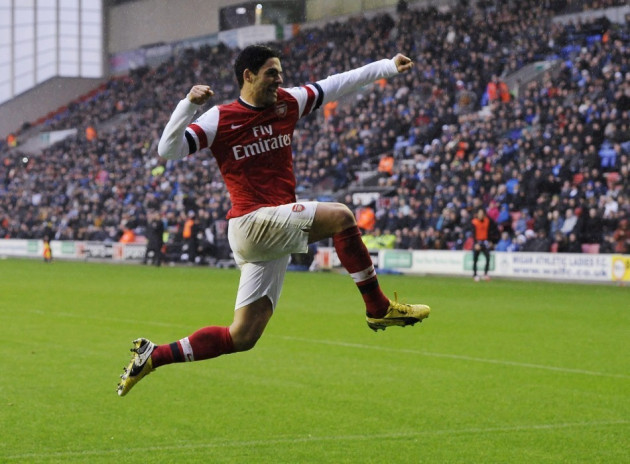 Mikel Arteta believes that Arsenal\'s win over Liverpool will send out a clear message to the title challengers that the Gunners are very much in the race this season.
Arsenal outthought the Reds to go five points clear at the top of the table, beating the third-placed team in the Premier League by 2-0, making their case stronger in the race for the title. Santi Cazorla and Aaron Ramey were on the scoresheet for the Gunners, as the north London club scored a goal apiece in each half to secure what was a comfortable victory for the league leaders.
The Gunners have lost two home games on the bounce against Borussia Dortmund and Chelsea in the Champions League and Capital One Cup respectively but this win should them some much needed confidence as they travel to Borussia Dortmund midweek followed by a trip to Old Trafford the following weekend. Maximum points in both should exorcise any talk of Arsenal being underdogs for the title and will make them the team to beat as the Premier League reaches the half-way mark.
\"For us today was a great day. We want to stay where we are and we will make it difficult for the rest. We played a really good team. They have been on fire in the past couple of weeks. It was a great test to see where we are and we showed that we are at least as good as them,\" Arteta told www.arsenal.com.
However, Arteta is not getting carried away by their form this year, having seen many an Arsenal side wither away after showing initial promise. The season is reminiscent of their performance in 2007-08 when they were five points clear at the top of the table but failed to push on after a serious injury to Eduardo choked their season.
\"We are tested every week. People have been waiting for us to lose. But we showed today the desire that we have to stay we are. I feel this is a very good message. We wanted to get the points at home. But we know there is still a long way to go.\"