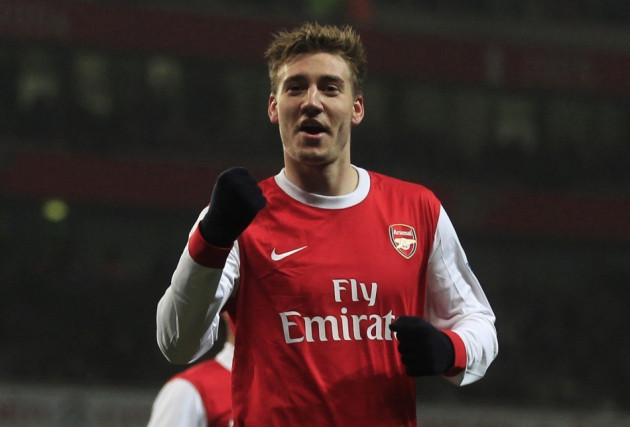 Arsenal manager Arsene Wenger believes that Nicklas Bendtner can be unstoppable if he puts his mind to it this season.
The striker made his last appearance for the Gunners more than two years ago against Liverpool at the Emirates and has since been sent on loan to Sunderland and Juventus over the last couple of years. However, with the Gunners currently short in the striking front, Bendtner has been called back into the squad after being refused the opportunity to leave in the summer in spite of a move being reportedly close to a Premier League club.
The Dane was an unused substitute in Arsenal's 3-1 win over Stoke City in the weekend but is likely to start their Capital One Cup fixture against West Bromwich Albion on Wednesday.The north London club have only one fit striker at present in Olivier Giroud, with Lukas Podolski currently out of the squad with a hamstring injury.
"He had nearly gone somewhere else [in August] and in the end he stayed because it didn't work out and we needed him here," Wenger told www.arsenal.com.
"Now he can convince everybody. We are open-minded, we believe in his qualities. I personally believe in his qualities. It's just down to attitude and fighting [spirit]. When he has that, Nicklas can be an unstoppable striker. He gets his chance. Our job is about that. Take your chance. Fans forgive you everything as long as you produce the performances on the football pitch. That's what people want. I think our fans have a positive attitude towards Bendtner and they will be behind him. Only you can create that with your performances," he added.
Wenger believes that the 25-year-old is a good player in his own right and is similar in his gait to Olivier Giroud who has been in sparkling form this season. The Frenchman insists that the striker has to prove himself this season and he has to use his qualities to bring himself back to his desired level.
"I see him as a centre forward. He can use his body [with his] back to goal. He's an intelligent player, he can play intelligent passes and protect. He's a similar type size-wise to Olivier Giroud. The central role is perfect for him," he concluded.