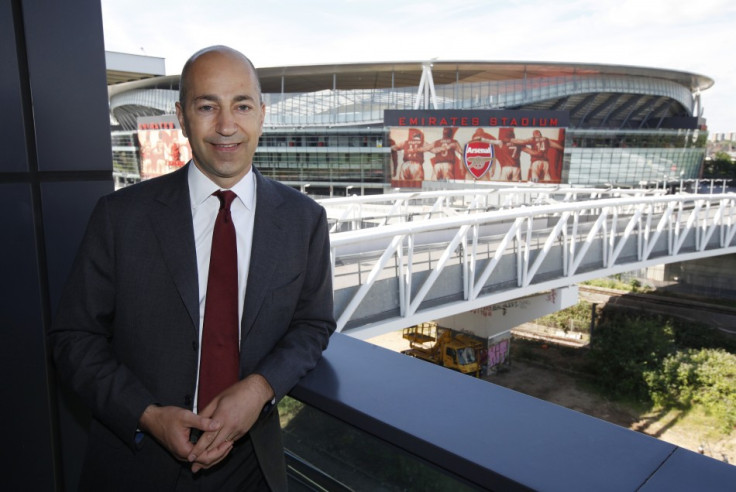 Arsenal have raised ticket prices at the Emirates, for high-profile matches, by 23 percent despite a seventh consecutive season without silverware.
Ticket prices for category A fixtures, which cover games against Tottenham Hotspur, Chelsea and top Champions League opposition, will range from £62 to £126. This means the lowest priced adult ticket for the game against Chelsea on 29 September will cost £62, compared to the £51 last season. However, the top price of £126 will apply to around only 1 percent of available tickets in the A band.
The club said the re-grading of games into A, B and C categories will create approximately 90,000 lower-priced tickets for non season-ticket holders for some of the matches. The Gunners' chief executive, Ivan Gazidis, defended the increase by stating the move followed consultation with Arsenal Independent Supporters' Association and Arsenal Supporters' Trust.
"We have listened to our supporters and these moves respond to some of their key feedback. It has been a long-standing aim of the club to find a way to provide more tickets at lower prices for some of our fixtures. We already significantly reduce prices to our home League Cup matches and now we have been able to offer around 90,000 lower-priced tickets to selected home Premier League matches," a club statement quoted Gazidis as saying.
"We constantly aim to strike the right balance between offering tickets at affordable prices, while ensuring we have sufficient income to reinvest in the squad. This is crucial as we look to compete at the top of the game in Europe," the South African added.
The cheapest adult ticket at Arsenal next season will be available for £25.50 for category C fixtures, when the likes of Southampton, Sunderland, Swansea City and West Bromwich Albion visit north London. Prices in the C band will be, on average, 28 percent lower than last season's equivalents, with tickets against Sunderland in the season opener on 18 August down by almost £10, compared to tickets priced at £35 for the same fixture last season.
For further information regarding new match categories and ticket prices, click here.