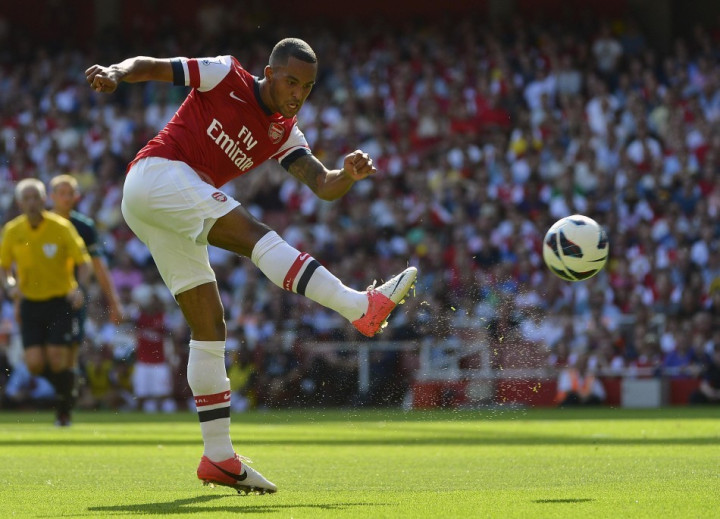 Arsenal legend Ian Wright is convinced midfielder Theo Walcott has the ability to shine as a striker and should be given an opportunity of prove himself further up field.
Wright's comments come after the Gunners' manager, Arsene Wenger, has confessed he will continue to groom wide-men as strikers; the most recent example being Ivory Coast international Gervinho, who has featured up front over the past few games.
Walcott scored twice midweek, to help his club register a convincing 6-1 win Coventry in the Capital One Cup. The 23 year old England international has indicated he does want to play as a striker and his future at the Emirates could depend, partially, on being given that role. However, Wenger, while acknowledging his claim, insists the player has to be patient for now. It doesn't help that Walcott is also in the middle of talks over renewing his contract, which expires at the end of the season, and the discussions are stalling.
"I love Theo and have been saying for a long time that he should be playing as a striker. Clearly he is not the finished article and could do with some more work from the Arsenal coaches, but Theo has all the ingredients to be a top striker," ESPN quoted Wright as saying, and adding, "Wenger has been saying for a long time that he sees Theo developing into a striker, so give the guy a chance to prove he can do it. If it doesn't work, then fair enough, but give it has to be worth a try."
Meanwhile, Wright also spoke on the contract situation between Walcott and Arsenal, insisting the midfielder has contributed to the club and fans should remember that instead of pressuring him to sign a new deal.
"The trouble for me is that people believe he should be doing more than he does every week and that expectation around him isn't all his own fault. There he was at 16, never played for Arsenal in the Premier League and he was thrown into the England World Cup squad in 2006. It was stupid. Ever since, people want him to win games on his own every week and nothing he does is good enough," he added.
Moving on from the particular, Wright concluded by admitting he was disappointed by the largely negative portrayal of footballers by the media; an example of which was a report by The Sun, which compared, unfavourably, Premier League stars with medal winners at the London Olympics 2012.
I respect what the amateur athletes did at London 2012, but I wasn't too impressed with the way everyone seemed to go out of their way to say these sports men and women were all a whole lot better than footballers. People see footballers as spoilt brats and they are jealous of working class lads doing well for themselves, but this is all nonsense," he emphasised, adding, "Footballers shouldn't the fall guys just to make the Team GB stars look good. If an Olympic athlete falls out of a nightclub in the next few months, will that get the kind of coverage a footballer seems to get. I bet they don't."