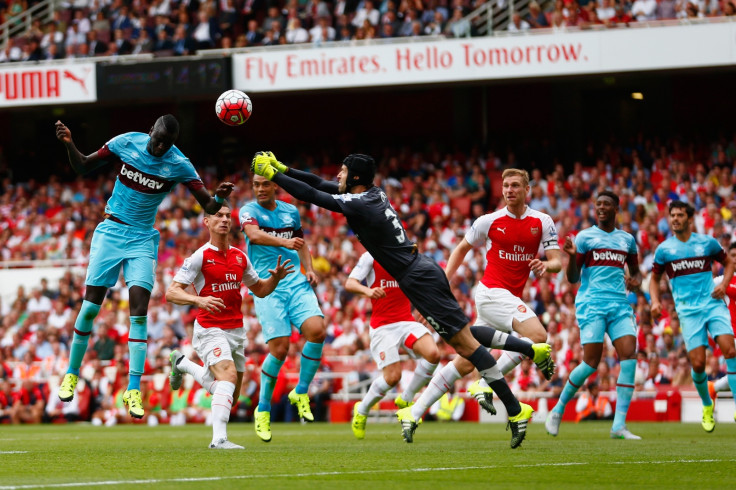 Arsenal defender Per Mertesacker believes that Petr Cech's arrival at Arsenal has had a major influence on the overall mentality of the team in spite of a forgettable start to his Premier League debut.
The former Chelsea goalkeeper was deemed culpable for both goals conceded against the Hammers, with the first goal coming owing to a misunderstanding between the keeper and the defence. Cech hurried out of his line to punch the ball, but found himself second best as Cheikhou Kouyate headed the ball home.
For the second goal, Cech was left wrong footed as Paulo Zarate hit the ball past the Czech Republic international to double their lead. The Gunners failed to create a proper goalscoring opportunity in the entire game and were second best for most of the fixture.
Cech redeemed himself against Crystal Palace, but failed to keep a clean sheet as Joel Ward's thundering strike fizzed past him in the first half for the leveller to Palace. However, in spite of a less than perfect start Mertesacker insists that his presence has a calming effect on the team and his experience will be crucial to Arsenal should they find them in a position to challenge for the title later in the season.
"He is very experienced," the vice-captain told Arsenal's official website. "You can feel that, he has lots of things to say in the dressing room he gives us a great lift.
"Even when we lose a game, he has some great ideas on and off the pitch. He is very important for us and a good addition.
"He is experienced enough to think about what went wrong [against West Ham], you don't have to tell him. My feeling is he comes back even stronger, so there is no doubt he will be a great addition for us," Mertesacker said.
"There was not just one mistake [against West Ham] - when a goal happens, there are always three of four small mistakes a lot of the time. It was more down to us to analyse what went wrong in general, and there was a lot.
"Last week was a reminder to ourselves to be aware that everywhere in the Premier League there is big competition," he added.