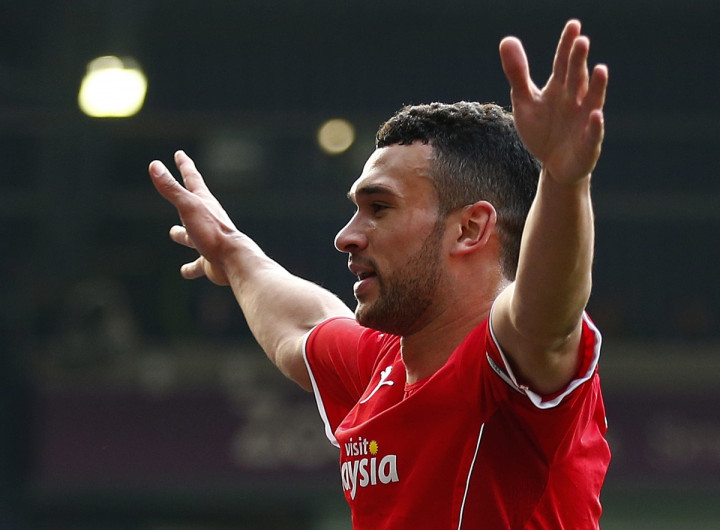 Arsenal are reportedly tracking defender Steven Caulker, who plays for the now relegated Cardiff City, according to the Daily Mail.
With Gunners captain Thomas Vermaelen's future remaining uncertain, Arsene Wenger will be keen to bring in cover for first choice centre-back pairing of Laurent Koscielny and Per Mertesacker.
Caulker, who only moved to Cardiff City last summer for a fee of £8m from Tottenham, has been monitored by a host of Premier League clubs.
The England international had a standout season with the Bluebirds, having featured in all 38 league games last season. He will be looking at a club where he will get regular playing time and not be second choice.
The north London side have also shown interest in Caulker's colleague and Cardiff City goalkeeper David Marshall. If the reports are to be believed, the Gunners reportedly had a £6m bid rejected for the goalkeeper by the South Wales club recently.
However, Cardiff manager Ole Gunnar Solskjaer hopes that he can keep his squad intact to try and get back to the Premier League with a good showing in the Championship next season.
"It is vital we keep hold of the ones (players) I believe will take us back up again. That job has already started," Solskjaer said.
"All of these in the squad now won't be here next season. That is the nature of football, but the ones who will be here will have to have the character. That league (Championship) is not just turn up and go through the motions.
"I can't comment on players' contracts. I am doing my best to keep hold of the most important ones, that I feel are the most important ones.
"David has been absolutely terrific this season. I believe he is very happy in and around Cardiff. He is one that I really, really want to keep," the former Manchester United striker added.