Per Mertesacker has admitted that it will be a tough start for Luka Podolski in the Premier League, but the defender insists that his Germany teammate will find his feet quickly at Arsenal and start scoring goals.
Mertesacker was part of the Gunners side that couldn't convert on Saturday against Sunderland, with the 27 year old playing alongside Podolski in a competitive match in England for the first time.
And though the striker was unable to find the back of the net, resulting in Arsenal taking a 0-0 draw, Mertesacker believes he will come good at the right time.
"It was tough for him [on Saturday] because it was his first game up front," he told the Arsenal website. "I think he will get used to the game, switch on quickly and score a lot for us.
"You have seen that he has a good technique and he is good in possession. We have the players who can pass him the ball. He is a good finisher too and we will see that in a couple of weeks.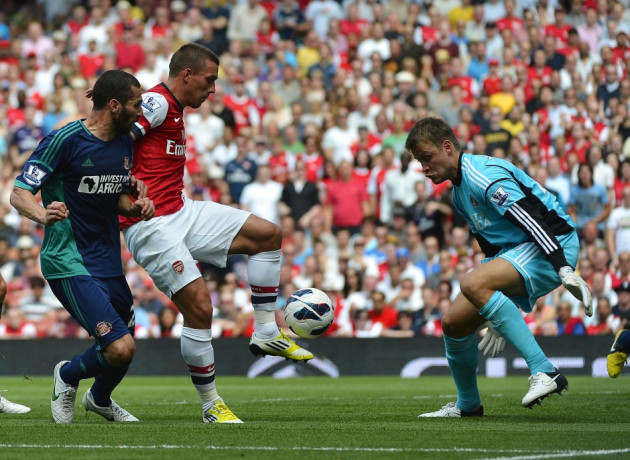 "We saw a lot of misunderstandings [against Sunderland], especially in the first half. One guy maybe wanted the one-two, the other in behind. So we need a bit of time, especially with the new players. We had a few new players who were playing their first game over 90 minutes. But I think it is coming."
Mertesacker himself faced some struggles for Arsenal last season, with the defender having injury problems as well as taking some time to settle into the Premier League.
But he's now insisting that he feels 100%, and is ready to show his worth to Arsenal Wenger this season.
"It was a bit weird [being back] but the pitch was much better than Sunderland away!" he explained. "I felt very comfortable so now I just have to go on.
"I did not feel any pain, my ankle is fine and I am looking forward to the next game and the season. It is very important for us to start well and be aware at Stoke."