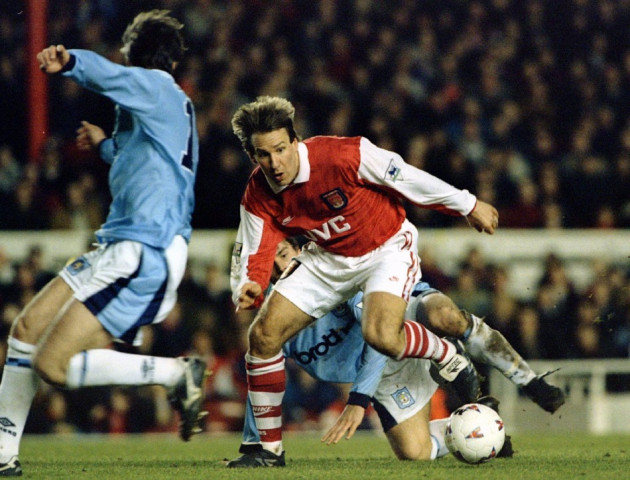 Former Arsenal midfielder Paul Merson will appear in court charged with drink driving following a motorway crash in October.
Merson, 43, was arrested after he was involved in a collision with a lorry on the M40, near Warwick, in October.
The ex-Arsenal player claimed he had fallen asleep at the wheel as he returned home from a charity event in London.
The Sky Sports pundit was breathalysed at the side of the motorway after his car hit the central reservation at 3.12am.
Merson was then taken to hospital for treatment to a cut to the head. He told the Daily Mirror he was "lucky to have survived".
"I fell asleep and just hit the central reservation," he said. "I banged my head on the windscreen and the car is a write-off. I'm very lucky to have survived. I managed to get out by myself and the emergency services were brilliant."
A Warwickshire Police spokesman told the Daily Mail: "A 43-year-old man who was arrested following a collision on the M40 in Warwickshire on October 12 will appear in court to face a charge of driving with excess alcohol."
Merson began his career as an apprentice at Arsenal, making his debut in 1986. He went on to represent Middlesborough, Aston Villa and Portsmouth, making 622 appearances and scoring 126 goals before retiring in 2006.
His career was dogged with controversy surrounding his private life. In 1994 his career was put on the line when he admitted to being an alcoholic and cocaine addict. He underwent a three-month rehabilitation programme before returning to Arsenal in February 1995.