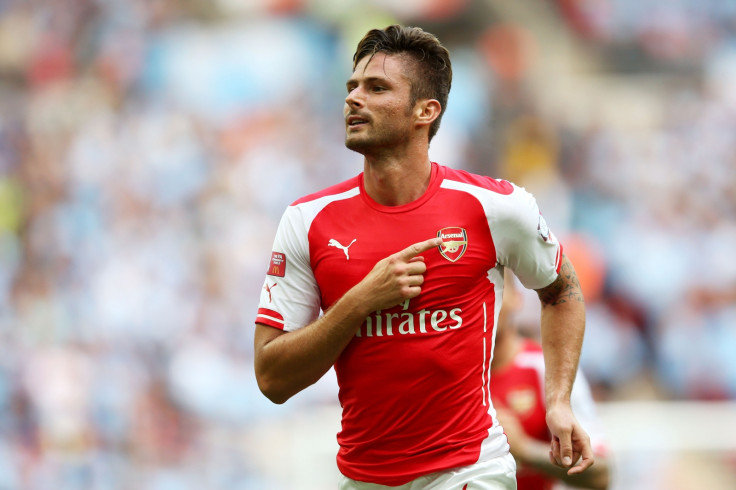 Arsenal striker Olivier Giroud is aiming to score more than 20 goals in the new season, amid the potential arrival of a new number nine to the Emirates Stadium before the transfer window ends. Despite the France international already netting a goal in the victory at Crystal Palace, he has been benched by Arsene Wenger for the game against Newcastle to make space for Theo Walcott.
The French manager has been urged to break the bank to secure the services of a marquee proven top scorer after his side failed to score in two of the first three Premier League games of the campaign. Club legend Thierry Henry insisted earlier this week that he expects his former boss to sign both a striker and a defensive midfielder before the end of the transfer window after the Gunners were held to a goalless draw against Liverpool on Monday night.
"I think it is going to be a massive week," he said. "They were missing a lot of players tonight, they still need a holding midfielder and they still need a striker. We have been saying it since the beginning of the season."
Wenger himself admitted this week that the club are still working hard to make new additions after having already identified specific targets – with Mirror recently reporting Paris Saint Germain star Edinson Cavani leads the list of candidates following Karim Benzema snub.
"We have a team that works day and night to find good solutions. At the moment we are not close. You have specific targets but, as well, you get an idea that you didn't know the player you like was available and if you get the opportunity you do it," Wenger admitted.
But Giroud believes he can be the man to do the job after targeting to improve his last season records when he scored 14 times in 21 Premier League appearances – despite missing the first part of the campaign due to an injury.
"I would like to score more than last year and to get a better ratio than last year," he told Arsenal Player. "It can be between 15 and 20 goals in the Premier League. In total, more than 20 goals would be nice," Giroud said to the club website.
"If I succeed to reach this number, I think the main thing for me is to reach our team aims, that's most important. If we reach our targets, it means that I would have been efficient.
"I'm used to playing when I feel good. My body is good and I'm pleased with that. As long as I'm in good form and my body is in good shape, I'll try to give my best for the team and I want to play more and more games to score more and more goals."