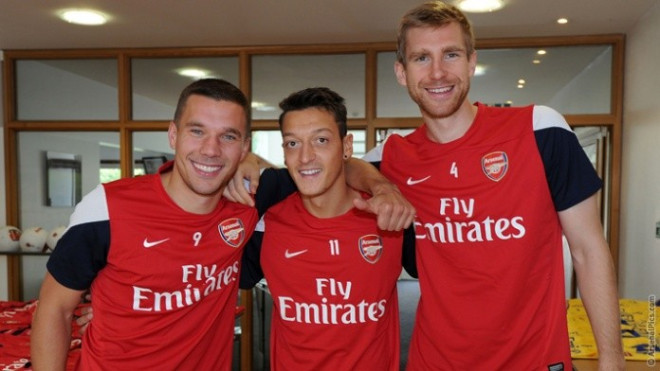 Arsenal forward Lukas Podolski claims it is not fair to criticise his team-mate Mesut Ozil, after the former Real Madrid star missed a penalty during the 2-0 defeat to Bayern Munich in the first leg of the Champions League last 16 tie.
After an impressing start to the game, Arsenal were awarded a penalty in the ninth minute following a tackle by Bayern defender Jerome Boateng on Ozil. However, the German international failed to score, fluffing the Gunners' chance to clinch the lead when the scores were still 0-0.
Bayern finally secured a 2-0 victory, taking advantage of Wojciech Szczesny's red card, and although Podolski admits in his Facebook official account that they were disappointed with the result he believes Ozil should not take the blame.
"Everybody is disappointed because of yesterday's result. However, that's football. It's not fair to criticise Mesut.
"Criticism is part of sports and this is good -but polemic is not. Picking one player out doesn't help the collective and the whole club neither! He's an outstanding player who will make all of us happy in future. A missed penalty won't change that. This happens to me and to every footballer. Friends stand together."
Podolski and Ozil are really good friends, as they both play together in the German national team and the former Bayern Munich forward has been important in Ozil's adaptation to English life.
Ozil was under scrutiny before the game. After an impressing start to the season his form took a dip, with some critics questioning whether he was worth the £42m that Arsenal paid to Real Madrid last summer to acquire his services.
Meanwhile, the former Real Madrid star has apologised to Arsenal supporters for his missed penalty kick.
"The next morning doesn't feel better either. sorry guys - it wasn't planned that way", Ozil said.
"Outnumbered it was really hard to win against this team," he wrote on his Facebook account.