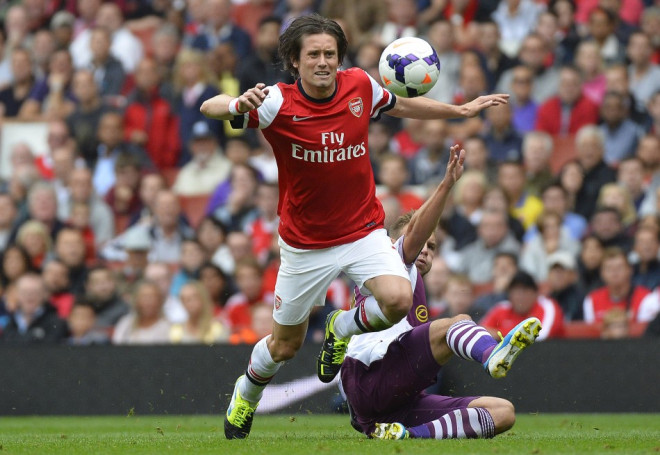 Arsenal midfielder Thomas Rosicky has heavily criticised the Gunners' performance against Chelsea, claiming that during the first part their approach was akin to suicide.
The Gunners conceded four goals before half-time after Samuel Eto'o scored the opener in just the fifth minute of the game.
Arsena Wenger claims that it was like "a nightmare", describing the loss as one of the worst days in his career.
And asked in an interview with Arsenal's official website about Wenger's quotes, Rosicky said: "The boss is absolutely right with what he is saying."
"I think in the first half the way we played was like a suicide, and the first two goals we conceded were almost like own goals", the midfielder added.
"Every time we lost the ball in the middle of the park there was a quick counter and a goal. We were the ones who had the first chance so maybe it could have been different but the two mistakes for the first two goals - in games like that everyone will punish you."
Arsenal are currently seven points off leaders Chelsea but the former Borussia Dortmund playmaker claims that the Premier League title race is not over yet.
"This is a big slap in the face but there are still eight games to go and so many points still to play for," Rosicky said.
"When I played in Germany for Borussia Dortmund and we won the title there, in the season that we won it we were five points behind first place with four games to go and we still managed to win it. Everything is possible but the most important thing at the moment is to bounce back straight away."
And Rosicky is confident about Arsenal potential to turn around the situation as they already did this season after heavy defeats against Manchester City and Liverpool.
"If you see in the past almost every time we had a negative result we always had a good reaction up until now. We have the experience of turning a negative into a positive very quickly. I'm expecting the same thing to happen on Tuesday," he said.
"It's not the first some we've done it this year so that's the disappointing part. But I'm very confident that we can turn it around again and we have two big games at home now."
Arsenal face Swansea City on Tuesday at the Emirates before the big game against title rivals Manchester City.